Verizon BlackBerry Storm2: October 28th for $180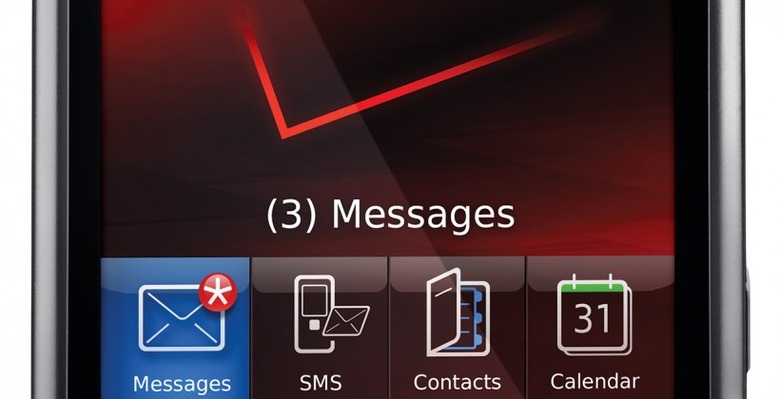 There's not just a new OS for the Verizon BlackBerry Storm today, but official word on when the touchscreen smartphone's successor will arrive on shelves.  This coming Wednesday, October 28th, will mark the Verizon BlackBerry Storm2's arrival, with the handset priced at $179.99 after a $100 mail-in rebate and assuming a new, two-year agreement.
Your hard-earned dollars get you a 3.25-inch 480 x 360 capacitive touchscreen with the latest iteration of RIM's SurePress technology, both EVDO Rev.A and UMTS/HSPA 2100 (the latter for travelling), and WiFi b/g, along with OS 5.0 and a total of 18GB of storage (2GB internal; 16GB via included microSD card).  Around the back there's a 3.2-megapixel autofocus camera with image stabilization and flash, and a 1,400mAh replaceable battery good, Verizon claim, for up to 5.5hrs talktime or 11.2 days standby.
Other specs include a 3.5mm headset jack, GPS, Bluetooth 2.1+EDR and a proximity sensor, and Verizon's usual apps – including Rhapsody music – are preloaded.  Unfortunately there's no preferential upgrade rate for existing Storm owners, which given the first-gen handset's mixed reviews seems a little short-sighted of Verizon.
Press Release:
A Powerful New Storm Rolls Onto Verizon Wireless' Network On Oct. 28

New Operating System for Existing BlackBerry Storm Customers

BASKING RIDGE, NJ, and WATERLOO, ONTARIO — Verizon Wireless and Research In Motion (RIM) (NASDAQ: RIMM; TSX: RIM) today announced that the BlackBerry® Storm2™ smartphone will be available in Verizon Wireless Communications stores, online at www.verizonwireless.com, and through business sales channels beginning Oct. 28. The BlackBerry Storm2 with BlackBerry® OS 5.0 evolves the BlackBerry® touchscreen platform with hundreds of hardware and software enhancements – including new SurePress™ "clickable" display technology and built-in Wi-Fi® – delivering the exceptional multimedia experience and communications capabilities customers have come to expect from their BlackBerry smartphones.

Key Features:

Smooth design and premium finish with sloped edges, chrome accents, glass lens and stainless steel backplate

Large (3.25"), dazzling high-resolution 480 x 360 display at 184 ppi

Capacitive touchscreen with integrated functions (Send, End, Menu, Escape) and new SurePress technology that makes clicking the display practically effortless

3G and global connectivity support for making phone calls in more than 220 countries and accessing data in more than 185 countries (with more than 80 destinations in 3G)

Network Connectivity: EV-DO Revision A; UMTS/HSPA (2100 MHz); and quad-band EDGE/GPRS/GSM networks

Supports Wi-Fi (802.11 b/g)

256 MB of Flash memory

2 GB of onboard media storage and a microSD™/SDHD memory card slot with a 16 GB card included

Software Updates on BlackBerry Storm2:

Features BlackBerry OS 5.0, which includes typing accuracy and selection improvements, as well as usability and visual enhancements such as inertial scrolling, spin boxes that make it easier to set dates and times, gradient shading on buttons, and more use of animation

BlackBerry® Browser is improved with faster JavaScript and CSS processing as well as support for Gears and BlackBerry Widgets

Customers running BlackBerry® Enterprise Server 5.0 will gain the ability to set follow-up flags, manage e-mail folders, access remote files (Windows Shares), forward appointments, view calendar attachments, and more

Additional Features and Specifications:

3.2 megapixel camera with autofocus, Image Stabilization (IS), flash and video recording capabilities

Premium and easy-to-access phone features, background noise suppression technology, loud distortion-free speakerphone and face detection (proximity sensor) that prevents accidental clicks and blanks the screen while the customer is on the phone

Media player for videos, pictures and music, plus support for BlackBerry Desktop Manager for both PCs and Macs, and BlackBerry® Media Sync, for easily syncing Windows Media® Player music with the smartphone*

3.5 mm stereo headset jack and dedicated volume controls

Bluetooth® (v2.1) capable with support for Secure Simple Pairing, hands-free headsets, stereo headsets, car kits and other Bluetooth peripherals

Built-in GPS for maps and other location-based applications, as well as photo geotagging; and Verizon Wireless' VZ NavigatorSM service is pre-loaded

V CAST Music with Rhapsody

Access to BlackBerry App World™, featuring a broad and growing catalog of third-party mobile applications developed specifically for BlackBerry smartphones, with categories including games, entertainment, IM and social networking, news, weather, productivity and more

Support for Verizon Wireless' Mobile Broadband Connect tethering service

Removable, rechargeable 1400 mAhr battery that provides up to 5.5 hours of talk time or up to 11.2 days of standby time

Pricing and Availability:

The BlackBerry Storm2 smartphone is available beginning Oct. 28 for $179.99 after a $100 mail-in rebate with a new two-year customer agreement on a voice plan with an Email and Web feature or an Email and Web for BlackBerry plan. Customers will receive the mail-in rebate in the form of a debit card; upon receipt, customers may use the card as cash anywhere debit cards are accepted. Data plans for the BlackBerry Storm2 smartphone begin at $29.99 when added to any Nationwide voice plan.

New Operating System for Existing BlackBerry Storm Customers

Existing BlackBerry Storm customers will be able to update their handsets to the new BlackBerry OS 5.0 software via Web software load (www.blackberry.com/update), BlackBerry Desktop Manager, or from Verizon Wireless' download site (www.verizonwireless.com/storm). The software is available today.

For additional information on Verizon Wireless products and services, visit a Verizon Wireless Communications Store, call 1-800-2 JOIN IN or go to www.verizonwireless.com. Business customers can contact their Business Sales Representatives at 1-800-VZW-4BIZ.

* Certain music files may not be supported, including files that contain digital rights management technologies.