Verizon 4G LTE iPad Gets Hotspot Support At Launch

Verizon has confirmed that its 4G LTE network will support the new iPad's Personal Hotspot feature at launch. This means that Verizon's customers will be able to use the iPad as a mobile hotspot to which other devices can connect to access its LTE network. Both Verizon and AT&T will be getting the device on March 16, but AT&T will not be enabling the mobile hotspot feature.
Apple's Personal Hotspot first debuted with the iPhone 4 last year and AT&T began supporting the feature on the iPhone last March. But when it comes to the latest iPad, AT&T says it is still working with Apple to enable the feature in the future, but did not give a specific timetable.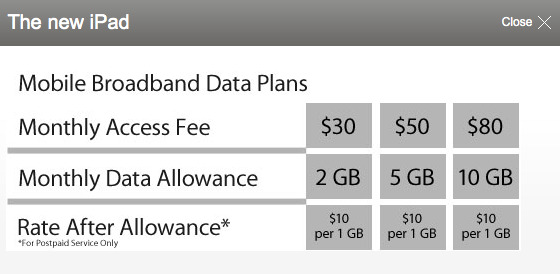 Verizon's data plans for the new iPad include the hotspot feature by default and are available in four options. It will cost $20 for 1GB of data per month, $30 for 2GB, $50 for 5GB, and $80 for 10GB. AT&T's plans will not have the hotspot feature, but start with lower-priced tiers of $15 for 250MB per month, $30 for 3GB, and $50 for 5GB. Overages are rated at $10 per GB.
[via CNET]