Verizon 4G LTE Galaxy Tab 10.1 up for pre-order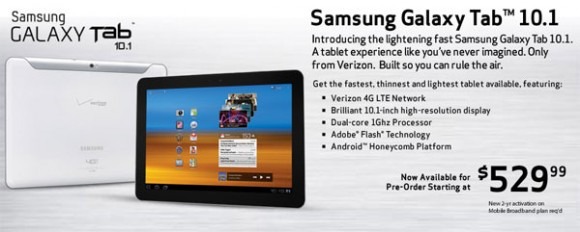 Earlier this week the Samsung Galaxy Tab 10.1 tablet got a price and a launch date for WiFi and 3G versions in the UK. While the UK is getting ready for its 3G flavor of the tablet, Fans of the Galaxy Tab 10.1 in the US can now order a 4G LTE version of the tablet. Verizon has the tablet up for pre-order right now at a price starting from $529.99. Other than the addition of the 4G modem, the tablet is the same.
It has a 10.1-inch screen, support for Adobe Flash, video catch capability thanks to a 2MP front camera and a 3MP rear camera. The camera also has a flash for taking photos in low light. The processor is a Tegra 2 offering from NVIDIA and it can be ordered with 16GB or 32GB of storage. Verizon lists the ship date at 4-6 weeks out. That is an eternity in geek years, but if you want 4G in your Tab, the wait will be worth it.
You can pre-order the 16GB gray tablet for $529.99 and a 16GB white version is the same price. The 32GB grey version will cost $629.99 with the 32GB white version going for $629.99. Those prices require you to sign away two years of wireless freedom. They will work on 3G networks as well.
[via Android Community]