Verizon's iPhone 4 hotspot feature to cost $20 on top of data plan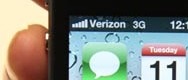 More news begins to get confirmed as Verizon's iPhone 4 release date inches closer.  Earlier in the day Verizon Wireless' Executive Director of Corporate Communications Brenda Raney confirmed that Verizon's iPhone hotspot ability will cost customers an additional $20 on top of their monthly data plans.
The hotspot feature will allow the user to use the device as a 3G wireless hotspot for up to five devices.  The Verizon specific ability for the phone has it's own 2GB monthly plan for the hotspotting separate from the phone's own data plan.  The plan covers all devices connected to the iPhone using it as a 3G connection. Being a premium service you can bet it will cost you if you go over the limit.  Each additional gigabyte over the allotted amount will cost you $20 per gigabyte. Yup,  be careful.
The hotspot's monthly data pool plan is the same as the rest of Verizon's phone arsenal.  Currently, AT&T's iPhone does not have the ability to be a hotspot for any of it's phones.  Sprint and Verizon do have a limited number of phones that can.  There are reports that the newest version of iOS 4.3 may allow it, and it will be up to the carrier's discretion whether or not to activate it.
[Via Macworld]