VeriFone PAYware iPhone Credit Card System Ships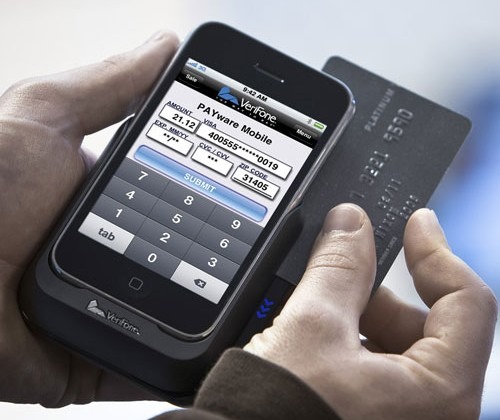 We have been talking about the cool VeriFone iPhone credit card payment system for a while now. The system has even turned up on a hands on video previously. The system allows an iPhone user to process credit cards by swiping the card in a hardware case.
VeriFone has announced that the system is now shipping. The PAYware Mobile App required for the hardware to work is available for free on the App Store now. The hardware sleeve called the card encryption sleeve peripheral will work on the iPhone 3G and 3GS smartphones and is available through authorized VeriFone distributors.
The sleeve slips over the iPhone, has a card swipe slot on the side, and allows companies that sell goods or services in the field to capture swiped credit card transactions. Verifone says that the swipe system can save users up to 30% per transaction over manually entering card numbers. Pricing for the hardware is unknown and requires the user to sign up with the PAYware gateway service.