Venstar's home thermostat boasts touchscreen, WiFi, and mobile app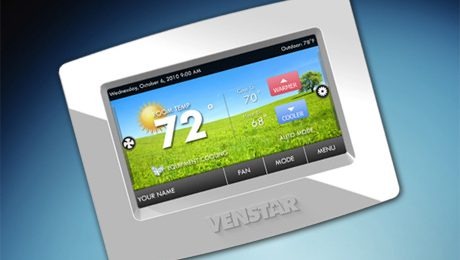 Venstar is giving the good old thermostat a techie makeover with a new Skyport WiFi Key for its ColorTouch residential thermostat. The Skyport WiFi Key allows the thermostats to connect to the company's Skyport Cloud Services, which lets users remotely monitor and control their thermostats via Venstar's mobile app. The new cloud access is compatible with the most devices, including the iPhone, iPad, and iPod touch as well as BlackBerry and Android devices. It can also be accessed over the web via Macs and PCs.
The new ColorTouch mobile app lets users monitor and control up to 10 thermostats at up to 10 locations. Multiple users can even control the thermostats at the same time. Users can either use the app or create a Skyport Cloud account online to monitor their thermostat information, which includes system run time and usage status.
User can view incoming alerts, such as pre-set notifications or important updates for system maintenance. They can also view current and forecast weather information for the thermostat location as well as send text messages for the thermostat to display, such as notes and reminders. Additionally, the ColorTouch thermostat features a full-color touchscreen and can act as a digital picture frame.
The Venstar ColorTouch thermostat is priced at $300. The additional Skyport WiFi Key card is priced at under $100 and requires a simple firmware update. Another cool thermostat you might want to check out is the Nest Learning Thermostat that can also connect via tha the web.