Vensmile K8 puts a PC inside a flexible keyboard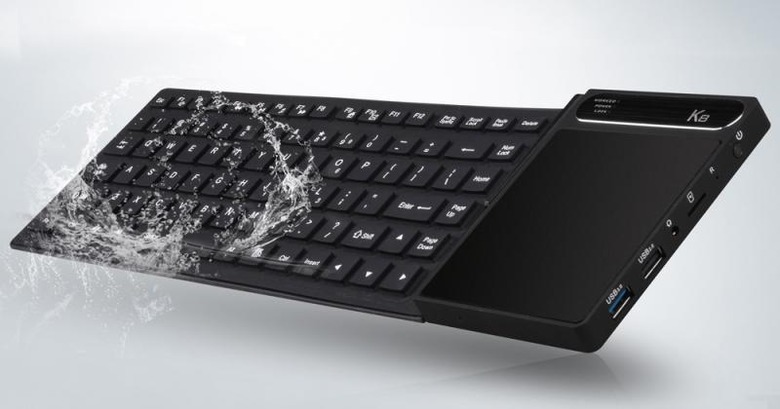 We've seen our fair share of keyboards that practically hide computers inside them, whether a full-fledged mini PC or a Raspberry Pi hack. We've also seen all sorts of foldable, flexible, even rollable keyboards that maximize mobility. But a flexible keyboard that hides a computer? That's definitely a first. And that is exactly what a company by the name of Vensmile is attempting to sell. Simply called the K8, the product packages productivity in a more portable form. Too bad it doesn't have package a display with it as well.
The idea of a PC you can slip into your pocket isn't exactly new. From the Intel Compute Stick to the InFocus Kangaroo, there have been numerous attempts to deliver a portable computer that isn't "just" a smartpone. The problem with all of these is that, while portable, they do require you to have a display, keyboard, and mouse wherever you connect. If there's only a TV or monitor, you're out of luck.
Unless you happen to purchase this Vensmile K8, which is a PC, keyboard, and mouse combo in one. Yes, mouse, because that shiny surface on top of the box is actually a 10-point touch pad. That bulky box itself is, as you might have guessed, is the PC. But don't judge it by its diminutive size. It actually packs an Intel Atom x5-Z8300, 4GB of RAM, and 64 GB of storage expandable up to 32 GB more. There's HDMI out capable of 4K resolutions and even VGA out but only for 1080p. There's one USB 2.0 port and another USB 3.0 slot. Of course, there's Wi-Fi and Bluetooth inside as well.
As for the keyboard, it's actually the least interesting here. It's flexible, foldable, and waterproof, pretty much like all of its kin. Which is to say, it's not going to sell with keyboard lovers.
Speaking of selling, the Vensmile K8 is currently on pre-order from Geekbuying, with shipping set later this month. At only $200, it might be a tempting backup computer to have. How it holds up in practice, however, is yet to be seen.
VIA: Liliputing