Venom F5 unveiled: 1400 horsepower and record-breaking ambition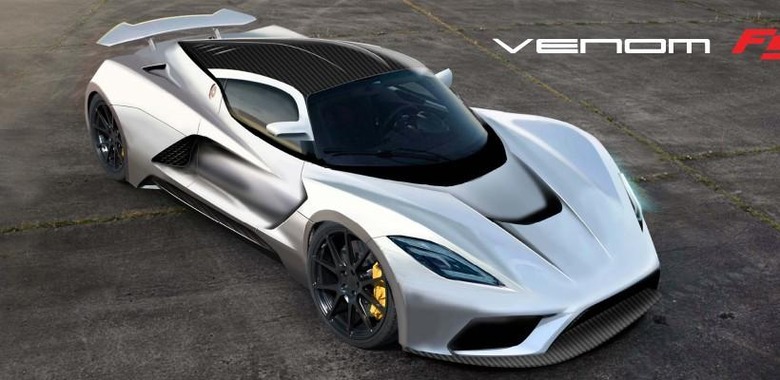 Hennessey has taken the wraps off the Venom GT's successor, the Venom F5. Its name is fitting, alluding to the strongest tornado possible with wind speeds hitting up to 318MPH. Aerodynamic changes are said to boost the Venom's performance, drawing from the knowledge bank formed in developing the Venom GT.
In order to trump the GT's speed record (270.49MPH), the maker says it had to do two things: increase the power and reduce the drag, the latter of which it achieved by decreasing the drag coefficient from 0.44 to 0.40. As far as power goes, the V8 is said to feature an increased turbo size.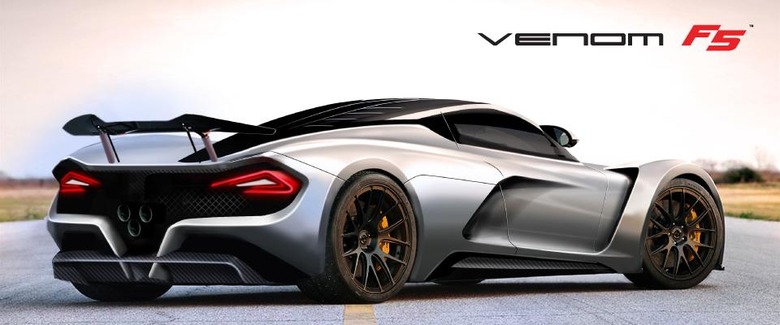 The powertrain is still being developed, so details are sparse on that end of things, but the fuel system and intercooler are both said to have upgraded capacities for handling the increase in turbo boost. Though not yet confirmed, Hennessey says "it's conceivable that output could exceed 1400 bhp."
Hennessey says the next model will introduce "several new technologies," and that it'll offer a GPS-based stability and traction control system. Overall, the car is promised to trump the GT's acceleration records, which sit at 14.51 seconds to 200MPH, and 13.63 seconds to 186MPH.
The Venom F5 is set to debut in 2015, and deliveries will start taking place late in 2016. It is promised a minimum of 30 vehicles will be produced for global sales, and that the price — though not yet stated — will be higher than the GT's $1.2 million.
Check out the SlashGear Cars Hub for more news!
SOURCE: Hennessey