Velocity Micro Shine pico projector does 720p on the cheap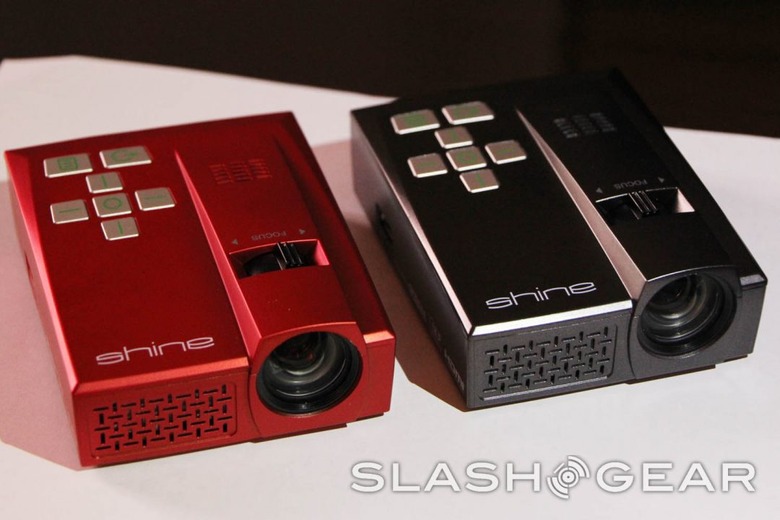 Pico projectors have become a well-established category in their own right, much to the delight of road warriors and those who want a lot of bang for their buck when it comes to display size. With Velocity Micro's latest effort in the category, there may be a lot more bang in the near future. Their Shine series of projectors combines small size, big definition and affordability to make an attractive little package. The company gave us a demonstration of the upcoming hardware at CES.
First of all, the Shine's image is displaying a full 720p resolution at 300 lumens. That doesn't get anywhere near full-sized projectors, bu for pico projectors it's hard to beat, with most alternatives at around the 800x600 range. The image can be displayed at up to 150 inches before losing definition. A mini-HDMI port expands to full size and a proprietary port becomes a full set of AV inputs, via a couple of included adapters.
The Shine can handle video from an attached USB drive via an input on the left side. A tiny speaker will provide some audio in a pinch, but outputting it via a headphone port is a better option. In the demonstration that Velocity Micro provided to us, the projector kept up with 720p content without a hitch. The interface is a little basic, but once the video gets going it's shocking how good the picture is from such a small projector.
Perhaps the most impressive part of the Shine's spec sheet is that it draws just 30 watts – for a pico projector displaying 300 lumens, that's downright illuminating. Having a frame that's only 4 inches long and 9 ounces doesn't hurt either. Velocity Micro plans to bring out the Shine in the second quarter for around $400, with red and grey colors available at launch.