VelociRaptor 6x6 concept can be yours for $295,000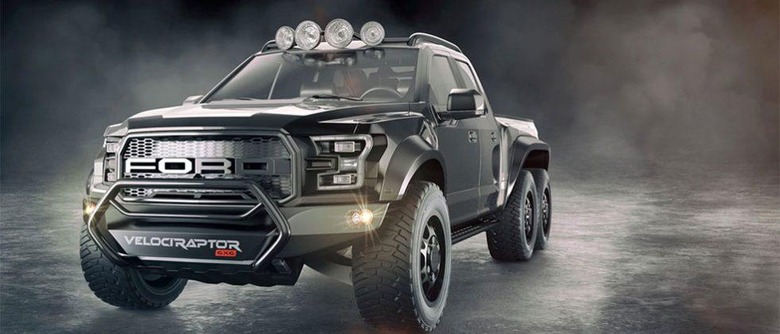 The Standard Ford Raptor truck is a beast on its own, but if you want much, much more than what the factory can offer, you need to take your ride to Hennessey. The Hennessey crew can take a normal Raptor and turn it into the VelociRaptor 6x6 you see here. The price for the transformation is $295,000 and the money does include the base 2017 Raptor 4-door truck.
Other hardware for the conversion includes 6x6 locking rear axles, upgraded Fox suspension, upgraded 20-inch wheels and off-road tires, special front and rear bumpers, roll bar, and LED lights. Hennessey will also offer the VelociRaptor 600 twin turbo upgrade for 6x6 buyer who want more wheels and more power.
That twin-turbo upgrade brings over 600hp to the Raptor with new twin turbos, stainless steel exhaust mods, upgraded front mounted air-to-air intercooler, and plumbing as well as a re-tuned factory computer. There are a slew of optional upgrades that can be had with the VelociRaptor 6x6 including Brembo front and rear brakes, larger wheels and tires, LED lighting, bespoke interiors, electronics upgrades, and armoring systems.
It's not clear exactly what they mean by armoring systems, it almost sounds like some sort of ballistic armor to protect against gunfire. If you don't want the 6x6 style, but fancy the 600 twin turbo upgrade, you can get that alone for $22,500. The VelociRaptor 6x6 can be ordered directly through select Hennessey/Ford dealers.
"Our VelociRaptor 6X6 is pure aggression on wheels – all six of them", said Hennessey. "The new 2017 Raptor is going to be one of the best all-around trucks ever built. We are excited to help take it to the next level both in terms of performance and exclusivity."
SOURCE: Hennessey Performance