Vegas' Mandalay Bay now hosts largest rooftop solar array in US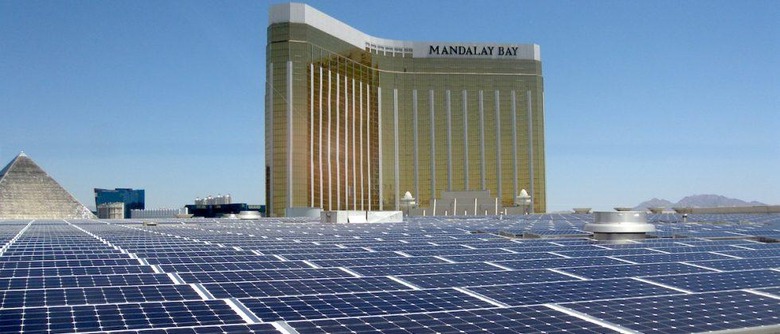 Nevada is a popular place for setting up solar power farms, with many acres dedicated to the placement of panels. The desert in an obvious first choice for location, but now the Las Vegas strip is wising up to the use of solar power. It's actually a great fit, what with all the 24-hour lights and casinos along the strip, using solar power is a great way to reduce peak demand. Now America's largest rooftop solar array can be found on the Mandalay Bay Convention Center.
The top of the building is now host to 26,000 individual solar panels. The installation began about two years ago, and now that it's complete, the rooftop array can generate enough electricity to fulfill 25% of the convention center's energy needs.
In addition to providing power, the solar array will also reduce the output of carbon dioxide by 8,400 metric tons in the surrounding area, which is said to be equal to taking over 1,700 cars off the road.
"MGM Resorts International has a long history of integrating environmentally responsible practices throughout our operations to help preserve the planet's limited resources," said the Mandalay Bay Convention Center operators in an announcement.
Several of Las Vegas' other large casinos are investing in solar arrays for their roofs, with a goal of reducing costs. This initiative can be seen throughout Nevada, as the state has set a goal of relying on renewable energy sources for at least 25% of its electricity by the year 2025.
SOURCE MGM Resorts International