Vaja E61 case reviewed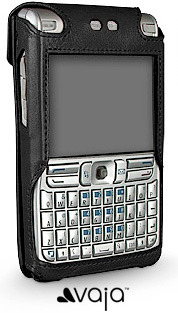 So you've impressed your friends, family and even yourself with your new Nokia E61.  They marvel at its thumb keyboard, gasp at its bright, clear screen, coo with appreciative glee at the slick menus and operation.
And then you drop it on the floor and it gets a ruddy great scratch across it.  All of a sudden, nobody invites you to parties anymore.  Elderly women spit at you in the street.
Andrew Liszewski is a lucky E61 owner and also pretty damn careful about not letting his cellular pride and joy come to any harm.  Having stored it in an old iPaq case at first, he has eventually given it the respect it deserves and invested in a Vaja leather case.
Is it any good?  Is $60 a ridiculous amount of money to spend on a case?  Do sheep have hidden compartments where they store knitting needles?  Two of these questions are answered in Andrew's lovely review.
Vaja Nokia E61 Leather Case [OhGizmo!]