VAIO P Netbook: "It Fits In A Pocket", Says Sony

It looks like Sony is really jumping into the Netbook business.  All the teasing comes to almost a climax today when the company released specs and a picture of what they're calling the Sony P or P-series.  According to SonyStyle, the P stands for "pocket".  Whether the P fits in my pant pocket or not, I can't wait to get my hands on a unit; hopefully sooner than later.
As far as specs and features go, the P looks might impressive for a Netbook.  It'll sport a 1.33ghz Intel processor, an 8-inch LED display with resolution of 1600 x 768, a 60GB HDD or 128GB SSD.  Battery and pricing are filled in as "NaN" and "X", so we'll have to be on the look out, as it gets closer to CES 2009.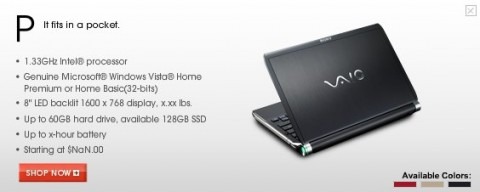 It'll come in red, champagne gold and black.  It's pretty obvious that the pictures are of the TT and they're mainly used as placeholder.  So at least there's somewhat of a mystery left for the official launch event.
[SonyStyle - via JKOnTheRun]