VAIO P gets $200 Verizon rebate; US model removes GSM SIM slot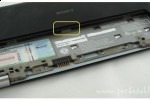 The Sony VAIO P's integrated mobile broadband makes for a great addition to an ultraportable device, but Sony and their carrier partner Verizon Wireless aren't going to let you have it without a fair chunk of cash.  Unfortunately there are no subsidized deals as such out there yet, not in the traditional sense, but Verizon have revealed a $200 mail-in rebate if you activate (or renew) a two-year data plan on the VAIO P.
The deal – which is offered to US buyers of the VAIO P when they go through the EV-DO Rev.A self-activation process – is available to anyone who activates the data service before March 31st, and must be active for 30 consecutive days in order to be eligible.  As with any mail-in rebate, there's nothing so helpful as an instant-discount; instead, you'll have to wait for that Verizon check to arrive.  Apparently there are several Sony VAIO models to which the rebate applies, though it's tough finding which exactly.
Problem is, while $200 is nice it doesn't make all that much of an impact to the lifetime cost of the VAIO P's data contract.  Verizon are asking $60 each month – over two years, that works out to $1,440, which the rebate brings down to $1,240.  That's potentially more than you could pay for the VAIO P itself, plus Sony have locked the Gobi modem – which usually offers CDMA and UMTS HSPA 3G access – to just Verizon, seemingly removing the SIM holder in the process.  It remains to be seen whether European and Japanese models have the same limitations, or if Sony's carrier partners there offer similar rebates.