V-MODA Crossfade LP Review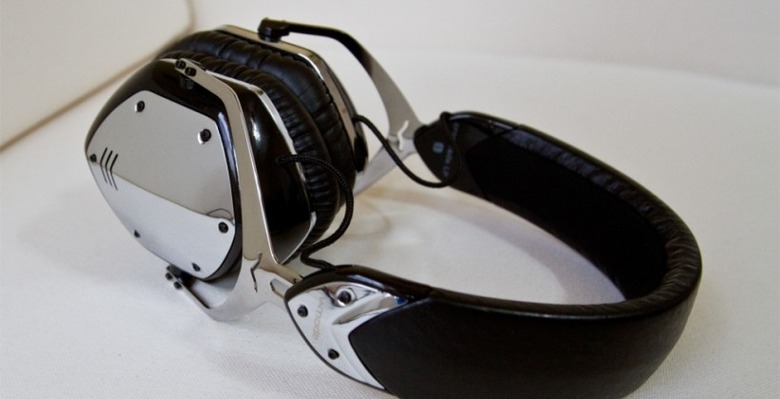 "Your headphones," V-MODA CEO Val Kolton says, "should be as unique as your style and music", a sentiment that perfectly encapsulates the company's latest model, the Crossfade LP. Designed to be as distinctive visually as they are audibly, V-MODA reckon they're the product of four years work and untold collaboration with music industry pros. The company also claims they're the ultimate in versatility; we slotted in our favourite Val Doonican cassette to find out.
If you're giving the Crossfade LP headphones as a gift then the lavish packaging – complete with crocodile-affect handle held in place with angular metal studs – probably comes as a bonus. If you're of the impression that the box is just something to stop your headphones getting beat up on the way from the factory, then you might wonder how much they added to the Crossfade LP's bottom line. At $249.99 they're hardly cheap, but then neither are their high-profile rivals like Monster's Dr.Dre-blessed BEATS range.
Inside the box there's a hard-shell carrying case moulded to the shape of the headphones themselves. Unzip it and you'll find the accessories, neatly tucked into elasticated pouches and straps. Notable are the two audio cables V-MODA provide, one for basic stereo audio and another with in-line controls for your cellphone and a microphone for hands-free calls. Each is fabric-braided, making them tricky to get tangled, with gold-plated plugs (one straight, the other at a 45-degree angle); V-MODA also bundle a 1/4-inch adapter for audio sources with larger sockets. Finally there's a carabiner clip and a cleaning cloth.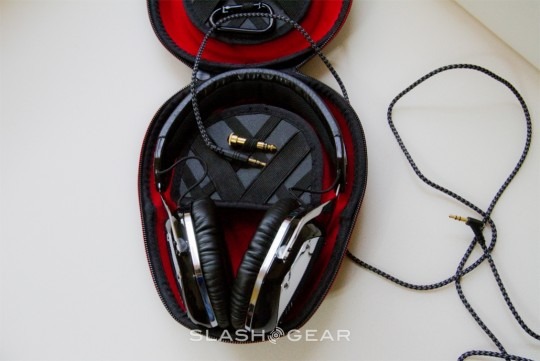 Like their Monster rivals, the Crossfade LP headphones are distinctive; however, where the BEATS range are bright plastic, V-MODA's mix together matte or gloss plastic, metal and leather. Our "Phantom Chrome" set look almost retro with their gloss black and metal finish; there are also matte "Gunmetal Black" and "White Pearl" versions on offer. It's probably still a little on the glitzy side if you prefer your headphones to go unnoticed, but we can't argue with the build-quality. Similarly, they rate highly for comfort, with the headband thickly padded (and with a non-leather section on the inside of the band, which helps avoid your head getting sweaty) and the ear cushions using memory foam that retains its bounce but also moulds itself comfortably around your ears.
Each ear-piece can be adjusted independently, though only for reach; there's no way to rotate them, which would've meant the carry case could have been thinner and thus a little less intrusive in your bag. The metal panels and headband extensions are certainly fingerprint magnets, and we've a feeling they'd be prone to scratching if you try to carry the Crossfade LPs unprotected. That won't impact the sound, of course, but we can't imagine many people will be happy at the thought of scratching up their expensive headphones.
As for that sound, it's bold, distinctive and likely to polarise opinion. V-MODA have thrown lashings of bass at the Crossfade LPs, and while trebles and mids are both clear and respectably strong, the heavy bottom end can threaten to overwhelm them. Of course, how welcome that is will depend on what sort of music you prefer to listen to; V-MODA aren't shy of discussing their "world-renowned DJ" partners who helped tune the Crossfade LP, and if you're a fan of dance, hip-hop or other bass-heavy music then you'll likely approve.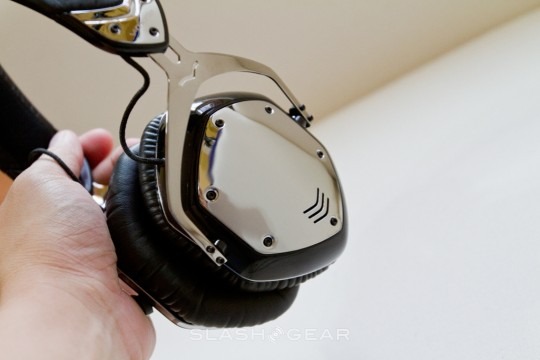 If, however, you prefer vocal music or classical, you'll likely find yourself spending a lot more time tweaking what equaliser settings your PMP of choice has to offer. By notching down the bass in our media player we were able to better balance the Crossfade LP headphones and enjoy what looks to be sparkling top-end performance. Problem is, if your PMP doesn't have that sort of EQ flexibility then you could be left with the impression that the V-MODA's are a one-trick, bass-thundering pony.
Ironically, those limited EQ options are usually to be found on smartphones that are increasingly doubling up as PMPs, and for which V-MODA include that second headphone cable with in-line controls. As well as a play/pause button – that also answers and ends calls – that has a built-in microphone and volume keys. We had no problem getting it to work with various test handsets, including the iPhone 3GS, together with the iPad, though the microphone seemed a little on the muted side for those at the other end of the call. Still, it's a useful addition and makes the Crossfade LP headphones far more convenient.
$249.99 is undoubtedly expensive for a set of headphones, though it's worth pointing out that they're still cheaper than Monster's similarly bass-loving Beats Studio (which currently sell for around $300 online). More divisive than the price is the audio tailoring, however. If your tastes lean to the modern and thumping then the V-MODAs should definitely be on your auditioning list; classical aficionados should probably look elsewhere. Still, solid construction and brilliant audio quality make for an excellent set of over-the-ears, with arguably equal comfort as you'd find with a potentially more expensive pair of in-ear customs. Try before you buy, then, but for their niche the V-MODA Crossfire LP headphones are worthy contenders.