V-Dimension Helius Solar Backpack Review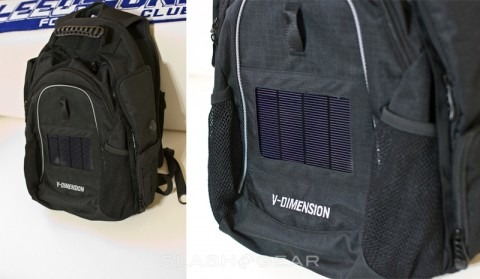 Considering how hungry today's gadgets are for power, it's no surprise most geeks break out into a cold sweat when they're away from a mains socket. V-Dimension aims to change all that, with their Helius solar-powered backpack: they claim its integrated battery is good enough to keep even the most avid iPhone 3G user juiced-up.
The solar panel itself measures 4.5 x 5.75 inches and is flexible enough that drops and bumps shouldn't see it damaged. The bag itself measures 18.5 x 13.5 x 9.5 inches and weighs 3.5lbs complete with the battery and recharging hardware; it's unlikely to win any fashion awards, but being made of black nylon is at least relatively discrete. You're unlikely to get too many questions regarding the solar capabilities, as the panel could easily be mistaken for a decorative patch.
V-Dimension provide a number of external and internal pouches and compartments, with various zippers and Velcro to keep them closed. There's also a rubber headphone grommet which lets you listen to music while your PMP is recharged inside the bag. Notebooks up to 15.4-inches can be accommodated in the main compartment (though it should be noticed that the solar system is not up to recharging them) while there's a cellphone/PMP pouch on the left shoulder strap that we found a little too snug for larger smartphones. Inside there's a keyring clip, six slots for passports, tickets and the like, and pen-slots.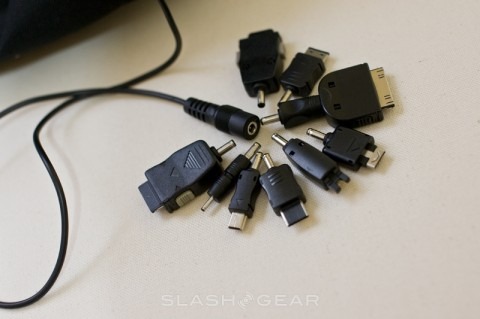 The battery itself is a 2,200mHa pack, and V-Dimension supply it with a number of modular adapters that can be switched around to suit your specific device. As standard you get an iPod/iPhone connector, mini-USB, Samsung, LG, Nokia and Motorola adapters; V-Dimension will happily sell you alternative adapters for $4.99 a piece. Maximum output current is 700mA, and there are three basic charge status LEDs.
It takes seven hours to fully charge the battery using the solar panel; if you cheat, and fill it either via USB or an A/C wall outlet then that's more than halved, to just three hours. We found a full charge was good enough to charge and power our iPhone 3G in just 1 hour and 48 minutes. V-Dimension suggest that, on solar charge alone, an iPhone will take seven hours to fully rejuice, while an iPod, standard cellphone or GPS device will take just 3.5 hours.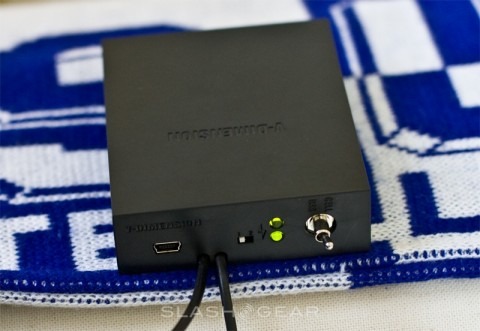 If we could change anything about the battery – bar laptop compatibility, which would require a whole lot more solar panels – we'd ask that it be removable and have a neater in-bag storage arrangement. Since it's hard-wired, there's no possibility to leave it charging via A/C while you use the bag elsewhere, meaning you could be carrying around an empty battery at night.
That given, you'd think V-Dimension would have a neater way to carry the battery inside the bag. Instead, it sits in the Helius' main compartment with no way of moving it to a side pocket or even really tucking it out of the way. There's enough flexibility to pull it out and sit it alongside the Helius, though, which makes wiring up power cables more straightforward.
As a bag, the Helius is comfortable and well-padded. There's enough room to store most mainstream notebooks, with space to spare, and V-Dimension's branding is minimal. We expected a serious weight impact from the solar and battery technology, so it's been a pleasant surprise to find ourselves not noticing it; the battery pack itself weighs just 4oz.
For $129.95 (or less, if you shop around) it's hard to argue with the V-Dimension Helius. With a number of iPhone 3G users on the team, we're used to carrying charger cables, Mophie JuicePacks and other gadgets to top up the smartphone; having a bag that can do that for us, and without requiring a mains socket, is great. It won't replace your chargers, but for stretching out usage while on the move the Helius has found a place in our travel kit.
Thanks to The Gadgeteers for sending a sample unit.