US+U Swivel Pro iPad case rotates and benefits charity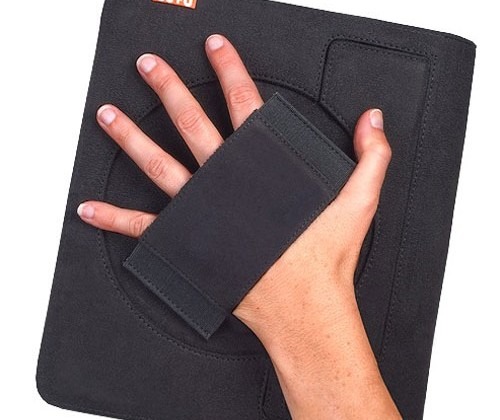 If you have an iPad, you may be in the market for a nice case to protect the tablet that looks good and works well. One of the things that worries me about my iPad is that even in a case I still fear the screen will hit something if I drop it. Moving from portrait to landscape is probably where most drops will happen.
The US+U Swivel Pro takes the fear out of moving the iPad into different viewing modes while you are standing up. The case has a rotating handle on the back that you slip your hand into for a secure grip. With your hand in the strap, you can just twist the iPad and nave no fear of dropping it to get into portrait or landscape modes.
The case also has a notch for propping the screen up for easier viewing and has a panel that covers the screen for protection. There are a couple of similar cases on the market already. The big difference here isn't functionality as much as US+U allows the buyer to choose the charity that 3% of the purchase price goes to. You can pick from the ASPCA, Charity: Water, Compassion International, Hire Heroes USA, or Smile Train. The case sells for $69.99 and you can see it in video action here.