uSmart M1C 4.8-inch micro-laptop with HDMI output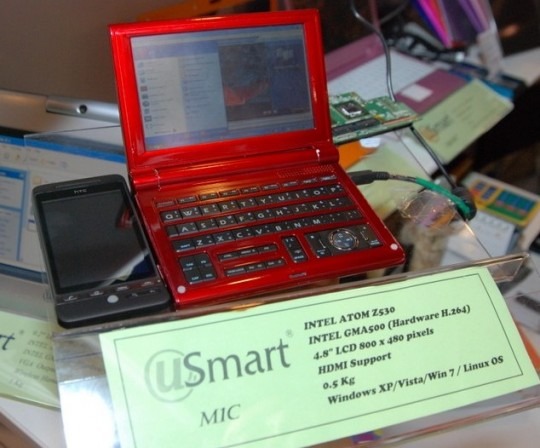 We're so used to seeing Intel's Z-series Atom processor range show up in netbook-sized ultraportables that it almost comes as a surprise when a manufacturer puts one in a MID like Intel expected.  
have been demonstrating this 4.8-inch WVGA
at the Hong Kong Electronics fair, complete with an Intel Atom Z530 CPU, GMA500 graphics and an HDMI output.
Details about the handheld are limited, but as you can see from the image it's 0.5kg in weight and sizes up pretty darn small compared to the HTC Hero sat next to it.  That's probably going to make for a cramped keyboard, and we can't imagine doing much hardcore typing on the M1C's dinky buttons, but there's no shortage of other controls cluttering up the lower half.
OS choices range from Linux through Windows XP, Vista or Windows 7, though we reckon uSmart are missing a trick by not slapping 3G inside and the Android OS onto the handheld.  There's no mention of the M1C on uSmart's site, so we'll have to wait and see whether what's likely a whitebox product gets picked up by any distributors.