USBConnect 881 for HSUPA network from AT&T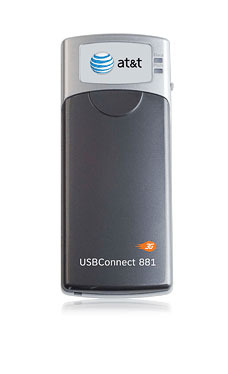 AT&T unveiled its new mobile broadband adapter called USBConnect 881. The USB adapter is made by Sierra Wireless and compatible with Windows and OSX. AT&T stated the device would connect to their HSUPA network and resulting in faster data transfer ranging from 600kbps to 1.4Mbps and upload speed of 500kbps to 800kbps.
The USBConnect 881 is also backwards compatible with AT&T's slower HSDPA network and quad-band EDGE or GPRS when there are no 3G coverage.
AT&T provides a free client for OSX users; the client is is compatible with Tiger and Leopard. USBConnect 881 is going on sale today for $50 with two years contract of data plan from $60 above.
The AT&T USBConnect 881 can be used internationally in 139 countries, so it is an ideal choice for international travelers. In addition, the USBConnect 881 works seamlessly across HSPA and EDGE/GPRS networks and provides customers with the ideal mix of coverage and performance whether they are traveling across town, the U.S. or the world. AT&T's nationwide2 EDGE network is the largest national high speed wireless data network in the U.S.
AT&T offers a variety of DataConnect rate plans, including an unlimited data plan for $59.99 a month for customers, with a two-year contract. AT&T's DataConnect North American plan of 100MB for $109.99 a month provides for usage in select Canada and Mexico roam zones, as well as unlimited domestic use. The DataConnect Global plan of 100MB for $139.99 a month covers additional data usage in select roam zones in more than two dozen countries, including many European countries, India, China, South Korea and Japan.