USB Mixa Tape Brings Back The Cassette (Sort Of)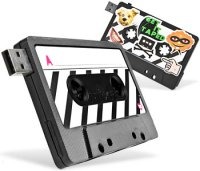 Flash drives aren't known for being exactly good looking. I mean, they're usually just a stick that plugs into your computer. But the USB Mixa Tape isn't your typical flash drive.
In fact, for a fun twist on this tech necessity, the USB Mixa Tape is in the shape of an old cassette tape. It has a flip out USB port on the side that easily plugs into your computer. It has a 1 GB capacity, so it's perfect for storing documents on the go in a fun and interesting format.
The device also comes with graffiti style stickers to further customize your drive. And to finish off the look? A cassette tape box. Now this is the sort of geeky gadget for me. It'll cost you £19.99 or about $30 USD, but the unique look may be worth it.
[via Coolest Gadgets]