USB laptop stand cools, swivels, and tilts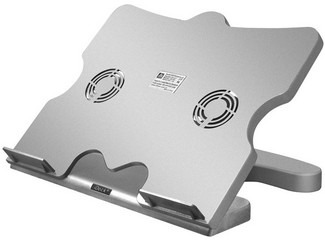 I'm amazed that my notebook hasn't exploded yet, considering how hot it gets in less than an hour of use. Laptop stands have become a must for any laptop owner that really uses their laptop in their laps. One to look at is the iDock stand that not only has two built-in cooling fans but also has an adjustable swivel/tilt mechanism for better eye-level positioning to prevent sore necks from bad posture.
The iDock also has four built-in USB 2.0 sockets good for connecting several peripherals. The only things it seems to be missing is some nice padding on the bottom, but I suppose we can add our own pillow of choice for that.
iDock – the cooling, swivelling USB laptop stand [Via: Redferret]