USB-IF offers USB 3.0 developers kit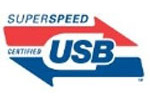 The first time I heard about wireless USB I was intrigued by the idea of being able to put my printer anywhere in my office without having to worry about a cable reaching. When I heard about USB 3.0, I was more excited because I wouldn't have to wait as long for a backup to my Drobo to complete.
The USB-IF has announced that it now has a USB 3.0 developer's kit available on its website. The developer's kit is only available to qualified companies and it is intended for peripheral developers, not host developers.
Retail price for kit is about $1,500 and it includes two PCIe host add-in cards, a one meter USB 3.0 cable, PDK documentation and the USB 3.0 command verifier tool. The command verifier took is the official tool for USB 3.0 hub and device framework testing. Along with the hardware, drivers for Windows 7 are also included.