USB Gift Set For Ladies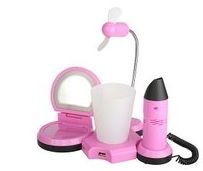 Apparently a few particular companies have a slight misconception about women that own computers. Mostly that we just have fluff in our heads as opposed to real brain. Don't worry I do have proof of these allegations, the USB gift set for ladies.
The set includes a USB mini vacuum cleaner with a brush, a USB fan, a USB lighted mirror and finally a USB mood light pen holder with 4 ports power hub. All of the products look like they are made of cheap crap, but hey, they made it pink. I truly feel sorry for any well meaning guy that buys this for a girl. Unless she's five, I really don't think it's going to go so well.
The really sad part is that it comes with a owner's manual as well. This pink little set will only cost you $29.50.
USB Gift Set For Ladies Chock Full of Pink Toys [via chip chick]