USB charger gives your battery a boost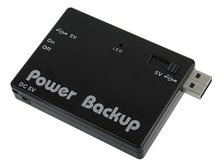 One of the biggest problems with mobile gadgets is that they are still bound by relatively short battery lives. My Moto Q is horrible. Some days I'm lucky just to make it to the end of the day before I need to charge it. A new product from Brando is hoping to help with this issue.
While the idea of mobile chargers is not by any means new, this is one of the first that I have seen that charges via USB. Unfortunately, if your gadget doesn't charge over a USB cable, then this little guy isn't for you. We're not sure how long of a life you will get out of this charger, but it takes 3 hours just to charge up, so I'd hope that you could get more than just a few minutes out of it.
For $20, it's really not a bad idea. Though I probably wouldn't want to carry one of these around everywhere just in case my phone dies.
Power back up via the USB port [via coolestgadgets]