US drone soars through Europe on Nato mission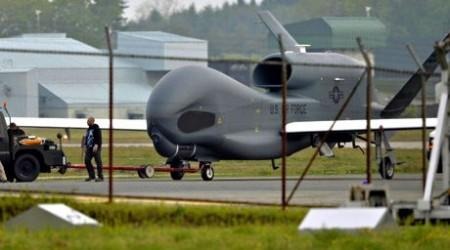 A high-flying US Drone entered European airspace for the third time, and entered UK airspace for the first. The Global Hawk, an unarmed and unmanned drone, was part of a Nato exercise involving remotely piloted air systems. Traveling from Italy, the drone went through southern Europe and through UK airspace into Norway.
The drone was using segregated airspace throughout Europe to carry out its exercise. Traveling at 50,000 feet, it was well above commercial aircraft, which cruise at a maximum of 40,000 feet. Though a spy drone by design, the Golden Hawk was on a development mission this time.
The scope of the exercises was to find out how drones could work in unison with the current aviation framework. The project is aimed to help the Nato alliance ground surveillance system (AGS) work with drones. The AGS currently has five Global Hawk drones from 14 countries, and is based out of Italy.
According to Air Vice Marshal Phil Osborn, "It is good to see existing airspace procedures enabling the seamless integration of remotely piloted air systems, such as the unarmed Global Hawk aircraft, within European airspace. This trial will have helped with the development of the Nato alliance ground surveillance system (AGS) and the future airspace integration of RPAS."
The drone exercise comes ahead of the Nato summit this summer in Wales, where world leaders will discuss topics such as terrorism, piracy and cyber attacks.
Source: The Guardian