US carriers are stripping down the Galaxy S6 even further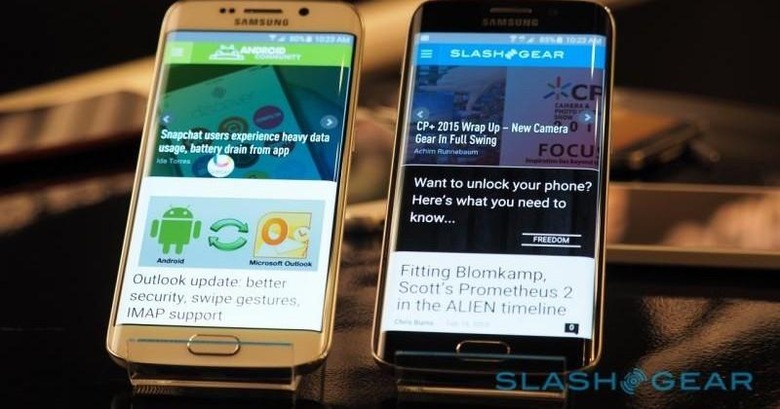 Samsung's phones are notorious for the amount of bloatware they come with, exacerbated by carriers' own bloatware on top. For this round, however, Samsung was noted to have put the Galaxy S6 and Galaxy S6 edge on a software diet. Well, as much as it can concede. It still has some, of course, but not exactly as bad as before. US carriers seem to also be getting into the rhythm. It's not exactly surprising to hear that carriers are modifying their versions of the Galaxy S6, but some of the changes are rather puzzling at times.AT&T, for example, removes the Download Booster feature. This has actually been a contentious feature ever since it debuted on the Galaxy S5. In theory, it allows users to download data faster by combining cellular and Wi-Fi connections. Given how it could aversely affect network lines, it's expected that carriers would be a bit uncomfortable with it. But that's not the only thing AT&T threw out the door. The Smart Manager app for easier battery and storage management was also removed. AT&T also kicked out Microsoft OneDrive, which offered 100 GB of free storage for new Galaxy S6 owners.T-Mobile, in comparison, seems to have kept things at vanilla, with a few exceptions. S-Finder and Quick Connect are locked to locked to the quick toggles and you can't turn off the capacitive lights, unlike on the AT&T model. The rest, even the preloaded software from Samsung, are the same, which may or may not be a good thing.Verizon is perhaps the most active of them all. It practically kicks out all of Microsoft's preloaded apps, including OneDrive, OneNote, Skype, and Office Mobile, as if the carrier has an allergy, or vendetta, against Microsoft. It also removed the Smart Manager feature. Somewhat ironically, it actually kept Download Booster and Simple Share intact.
While bloatware is a common complaint from users, these carrier actions are more of a mixed bag. While some of the apps are indeed available for download form Google Play Store, some, like Smart Manager, aren't. And it could possibly affect, and not in a good way, some of the bonuses that owners would be entitled to, like free cloud storage and other "Galaxy Gifts". Carriers are, of course, putting in their own set of preloaded apps anyway, so it's not exactly a change of heart either. Consumes should at least be aware that the Galaxy S6 they are getting from their carrier might not have all the bells and whistles promised by Samsung.
VIA: BGR