UpDesk UpWrite Standing Desk Review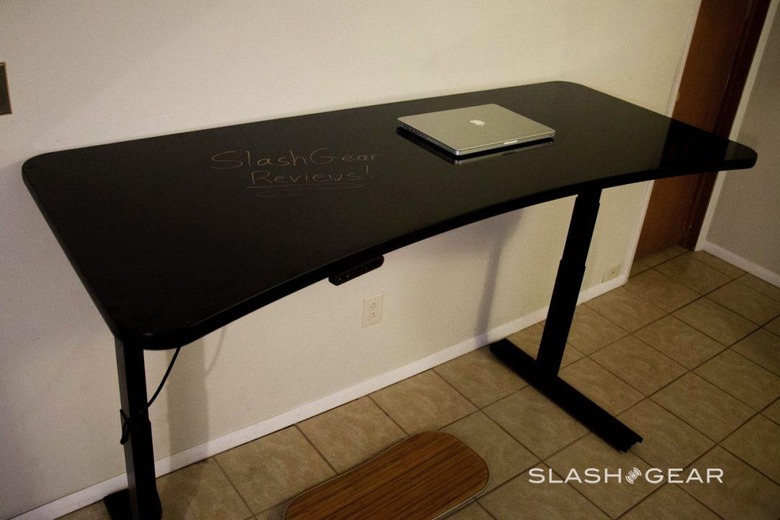 This may not come as much of a surprise, but I spend roughly the same amount of time sitting at my desk as I do in bed every night. Most of my work revolves around my computer, and as such, I'm tied to a desk. However, not all desks are created equally, and recently I've stopped sitting quite so much.
I've been using a pair of products to help get me out of my chair, and on my feet more often. One is the UpDesk UpWrite, which is a standing desk, and the other is the FluidStance Level, which is a balancing board. So instead of sitting all day getting no exercise, I've actually been on my feet and working out my core for several hours every day.
First Look
The UpDesk UpWrite is different from most desks for a couple of reasons. First, it's a standing desk. It has the ability to raise and lower itself to adjust to the perfect height for your needs. It comes in three different sizes, ranging from 48" up to 72" wide.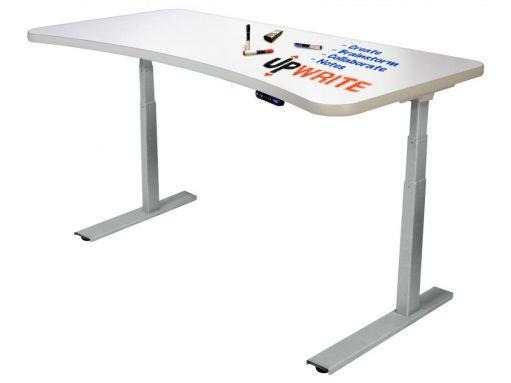 Since I tend to need a lot of space on my desk, I've been using the 72" version. Moving up and down isn't the only trick that this desk has up its sleeve, either. The surface is actually a dry erase board. It works with both wet and dry erase markers, and allows you to take notes (or doodle) directly on the desk itself.
Setup
The UpWrite is a very heavy desk. It came in two boxes, and while I could move them into my office by myself, an extra person is definitely needed for assembly (primarily just to help you flip it over when you're finished). Aside from being heavy, assembly was a piece of cake. Just attach the two legs to the desk, attach the control box, and then run some cables. There's also a couple of plastic pieces that can be attached for cable management, which keeps them out of the way (and out of sight).
Once everything was attached, and the desk was flipped over, there was little else to do other than plug it in. I did raise and lower the desk to its extremes, to make sure that everything was calibrated correctly. Other than that, the desk was ready to go.
Functionality
Once I got the desk assembled, I moved my PC over to it so that I could start using it full-time. Now I got to really start playing with it. The control box only has 6 buttons and a small screen. Two buttons are for raising and lowing the desk, while the other four are for the presets. The screen simply tells you exact height the desk is currently at. It only shows this while raising/lowing the desk, after that, it goes into power save mode.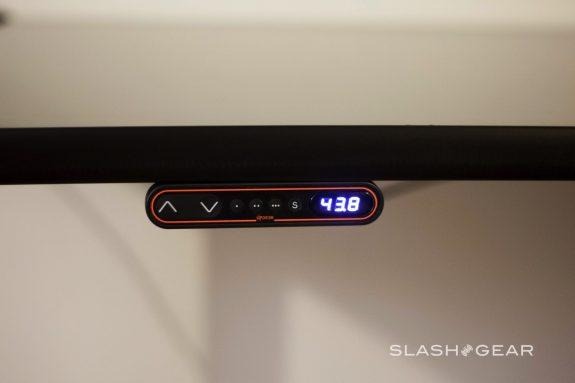 Since there are three memory settings, I spent some time standing at my desk, and figuring out what was comfortable. I found that sweet spot, I set that to one of the three presets. Finally, I rolled my chair over, and lowered the desk to the correct height for sitting. Now I can simply press and hold any of those three buttons, and the desk will raise or lower and stop at the exact spot that I want it.
This feature is particularly nice, because I'm the sort of person who will spend entirely too much time trying to find the exact spot my car seat was in, after someone messes with it. So having the ability to save each position is really nice. My only complaint here (and it really is a minor one) is that you do have to hold the preset button down until you reach the correct height. You can't just press it once, and have the desk move on its own, you have to keep the button held down at all times. The company specifically addresses this in the setup manual, and describes it as a safety feature. This prevents the desk from getting caught on something, and continuing to raise, breaking either the desk, or the thing it was caught on. So while I would like the convenience of simply pressing the button, safety is more important.
Conclusion
I've been using the UpWrite desk for close to a month now, and I have to say that I really enjoy the experience. It took some time to get used to the idea of standing all the time, so in the first days, I found myself only standing for short periods, and still sitting at my desk for a majority of the time. But slowly I found myself wanting to stand for longer and longer, and using the Level more and more.
I wouldn't say that I've started shedding pounds, or anything like that, but I do think that I feel better, since I stand at my desk most days now. Plus I love the ability to use part of my desk as a workbench that's the appropriate height. Being a tall guy (6'3") I usually have to hunch over when working on a PC on my table, so that's definitely been a really nice feature.
I can't say that I've put the dry erase feature to good use over the last month. I mostly use it for doodling when I'm on the phone. However, I have found it good for taking quick notes, rather than scrambling for a piece of paper, or opening up Notepad on my PC.
My only small complaint about the desk is the fact that there's no good way to route my PC cables anywhere. I would have liked the option to have a grommet where I could run my cables down to the floor, rather than just over the back. It's far from being a deal breaker, but it would have been a nice feature.
The UpDesk UpWrite starts at $1,050, which makes it fairly expensive for a desk. However, as far as standing desks go, it's a pretty good price. If you've ever thought about making a change in your lifestyle, I would highly recommend the UpWrite, or any of the other UpDesk standing desks (as they're similar in features, minus the dry erase top).
Update: UpDesk has informed us that they can add grommet holes into any of their desks at no extra cost. Selecting this feature may add some additional shipping time when you order, however.