Upcoming Apple Mac mini stars in video?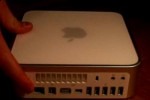 The leaked Mac mini image last week prompted mixed feedback, with some screaming "Photoshop!" and others content to assume another of Cupertino's wares had slipped through the net of secrecy.  Now a video of the same device has emerged, showing the full device and its complement of ports.Watch the full video after the cut
The video shows not only the connectivity – five USB 2.0 ports, Mini DisplayPort, ethernet and FireWire, together with Mini DVI and audio in/out – but the optical drive and a new design style for the mini.  Its legitimacy is already being argued, with that "legacy" Mini DVI port being a point of contention.
Of course, whether the video is real or fake, the one key fact about the Mac mini is clear: Mini DisplayPort will be making an appearance.  Apple have already publicly announced their plans to transition all new products to the new connector, and they're gradually axing all the older displays that don't support it.  Whether or not this is the new Mac mini or not, don't expect the port setup to look too different.
[Thanks Toby and S()san]