Unnamed MID gets clever pocket docking station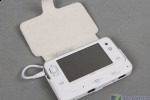 No brand, no model name, and very little chance of seeing it outside of China, but this MID does at least have some design intelligence that makes it stand out from the crowd.  The Linux-based touchscreen device comes with a carry-case docking station, which boasts both its own Li-Ion battery and headphone, ethernet, USB and VGA ports.
On its own, the MID has WiFi, Bluetooth, a miniUSB port, scroll wheel and D-pad, stereo speakers and an integrated webcam.  Both batteries are 1,500mAh packs, though no runtime predictions are made, but even with both in place and the MID docked, the whole thing only weighs 486g.
If there's a drawback, it's the MID specs: a 624MHz Marvell PXA310 processor, 128MB of memory and a 4GB SSD (though you can hook up a USB hard-drive).  No GPS, but there's a cellphone module in there for making calls.  The GUI seems to have borrowed a lot from the iPhone and Nokia's Internet Tablet range, but is at least finger-friendly; preloaded apps include Firefox, GMail, a media player and MSN Messenger.
No word on pricing, nor availability.
[via Pocketables]