Unmanned Cargo Ship Stuck To ISS After Computer Glitch Prevents Undocking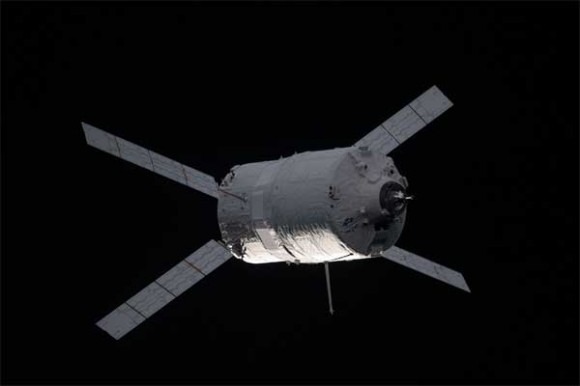 Supplies have been ferried to the ISS using unmanned European cargo ships for a long time. Once the unmanned spacecraft is put into orbit, it uses computer-control to navigate to and dock with the ISS. Once docked, the astronauts pop open a few hatches and retrieve the cargo needed to survive in space.
NASA officials announced this week that a glitch in computer systems have delayed the undocking of the ATV-3 spacecraft currently dock with the ISS. The computer glitch was on a laptop computer inside the space station, and the glitch prevented orbital departure of the unmanned spacecraft. The laptop computer inside the station serves as the command panel for the ATV-3 spacecraft.
ISS commander Sunita Williams told NASA that commands sent from the laptop were apparently not reaching the spacecraft. NASA engineers met yesterday to discuss the malfunction and determine when the next undocking attempt can be made. ATV-3, also known as Edoardo Almadi, is the third unmanned cargo ship built by the ESA.
The unmanned ship is used to carry necessities such as food, water, scientific gear, and other supplies to the ISS. The spacecraft headed to the international space station in late March of this year with 7.2 tons of cargo onboard. The ATV spacecraft is 32-feet long and nearly 15-feet wide. The craft is disposable and burns up in the atmosphere during reentry. The next ATV mission will launch in April of 2013.
[via Space.com]