Unlocked Acer Tempo M900 listed for sale, $671.99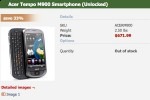 We knew the Acer Tempo M900 would be dropping in April or May and now an unlocked version of the phone has appeared for sale on MobileSteals.com listed at $671.99. The device is "Out of Stock" at the moment, but it appears to be legitimate.
The Acer Tempo will run Windows Mobile 6.1 and will be one of several smartphones that the computer manufacturer is releasing. The Tempo will feature a full QWERTY keyboard, touchscreens and HSDPA. The screen is a 3.8" WVGA.
We saw the Acer smartphones at Mobile World Congress, and the Tempo family consists of four different models, the DX900, X960, F900 and M900. Check out the listing here.
[Thanks to Drew for the Tip!]