Unique miniature cube projector with docking speaker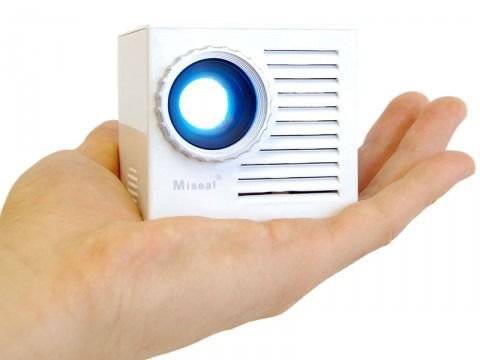 Sanko branded Miseal mini projector has a unique cube structure that fits in the palm of your hand, rather than the typical handheld size and shape pico projectors we've seen to date. What is intriguing is a snap-in matching docking with extra juice to supply additional 2 watts of power for bigger sound.
The Miseal mini is a LCOS based projector with SVGA, 800x600 resolution. The light source uses white LED to illuminate 25 lumens of image at 100:1 contrast. It fits nicely in a cube measures nearly 70mm on each size, and weights at a mere 0.6 pound. Despite small in size, the miniature beamer can display up to 112-inch diagonal from 16 feet throwing distance.
The unit draw it power from an AC power outlet, the bare cube projector has a built-in speaker with a headphone output, a Audio video jack output, a VGA graphic connectivity and a tripod mounting hole on the base. It's available now only in Japan for 39,800 yen. ($434).