Undercover cop dresses as homeless man to catch texting drivers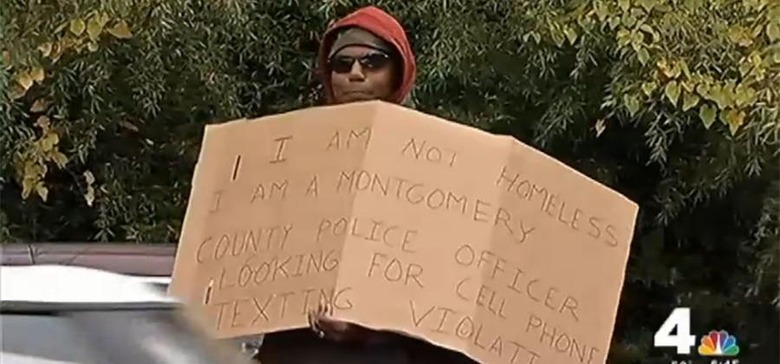 Just about anywhere you live in the US, you will see people standing on the side of the road holding cardboard signs hoping that someone will help them out with food, money, or a job. Anywhere you live in the country you will also have to deal with drivers who are so distracted by their smartphones that they can't drive.
A police officer in Montgomery County Maryland recently went undercover on a busy street dressed as a homeless man. The officer held up a sign that read, "I am not homeless, I am a Montgomery County Police Officer looking for cell phone texting violations."
The sign the officer held was very large and concealed a radio behind it. When the officer would catch someone violating the texting and driving ban, he would radio ahead and other officers would pull them over and issue a citation.
Any driver paying attention and not distracted by their phone could read the sign and would know what is up. It's unclear how many citations were issued directly by officers involved in this undercover operation. Officers issued 56 tickets county wide along with 31 of those being for using phones without hands-free devices.
VIA: NBC Washington