Uncharted 4 gets delayed...again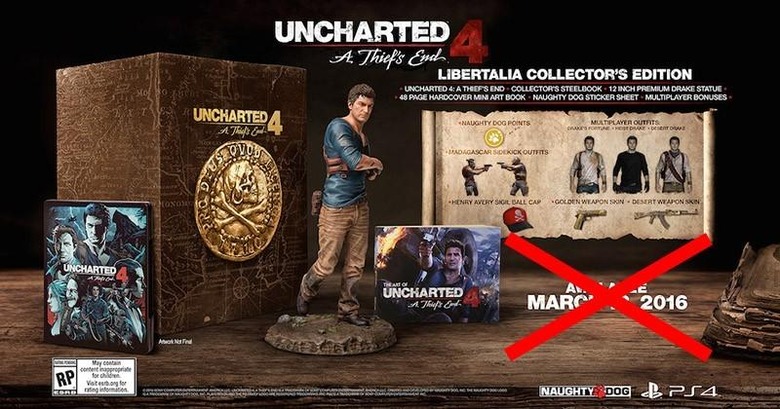 Fans of the Uncharted series are no doubt disappointed that they aren't already playing the game. After all, original estimates had the game coming out in fall of this year, and by the end of the year at the latest. Earlier this year, it was announced that the game would be delayed until March of 2016. Well, that release date just got a little further away.
The game's creative director Neil Druckmann and game director Bruce Straley announced today that while the game is wrapping up production, it still needs some extra polish before it can be released to the wild. Thankfully, the delay isn't quite as big as the last one, pushing it back just over a month, to April 26, 2016. You can read the full statement below:
Let's start with the good news: Uncharted 4: A Thief's End is wrapping up production and is shaping up to be the proper send off for Nathan Drake that we've promised you. The bad news is that we need a bit more time to finish the game so that it meets our standards and vision. Let's cut to the chase, Uncharted 4: A Thief's End has a new release date in North America of April 26, 2016.

This is our largest Uncharted game to date, and the team has been working incredibly hard to meet the challenge of closing out the game's development in a timely manner. However, as we approached our final deadlines and started wrapping up the game's levels, we realized that several key sequences needed extra resources to bring them to the finish line. After carefully considering all of our options, we decided to extend our schedule, making sure that we get a few more polish passes before submitting our gold master (the final disc for manufacturing).

Pushing the date is not an easy choice, and we wouldn't do it if we didn't feel in our hearts it's the best course of action for the game. To you, our loyal fans, we hope you'll accept our sincere apology. We know many of you have been waiting patiently for Nathan Drake's final chapter, and now we humbly ask you to wait a bit longer.

On April 26, 2016 the most ambitious installment in the Uncharted series will be in your hands.
While no one is happy to hear that a game is being delayed, I'll always be the first to defend the decision. If I had to choose between a polished game that was delayed, or a buggy game that came out on time, I'll choose the former every time.
Regardless of when the game arrives, you'll be able to pick it up in four different flavors. There's the original, a digital deluxe, and two different limited edition versions, which we outlined back in August.