Uncharted 4 hits PS4 on March 18, 2016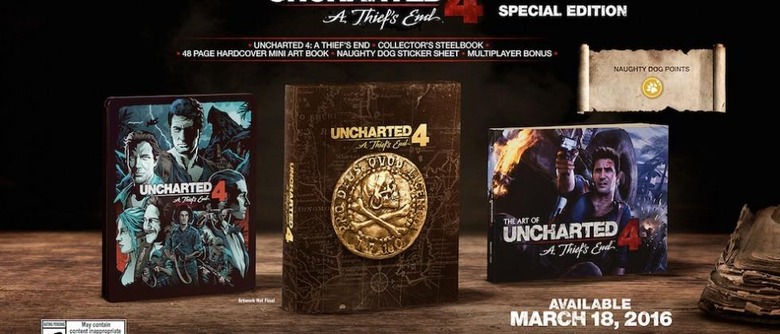 Following the delay from its original scheduled release of this fall, Sony and developer Naughty Dog have announced that Uncharted 4: A Thief's End will finally be released on the PlayStation 4 on March 18th, 2016. As the latest entry in the action-adventure series Uncharted, the fourth title continues the story of hero Nathan Drake, picking up sometime after the end of Uncharted 3. Fans of the series who will be picking up the October release of the original trilogy, dubbed The Nathan Drake Collection, will be well prepared for the first Uncharted game on the PS4.
Like any big-name release or console exclusive title, Uncharted 4 will be getting several limited edition packages. First up is the Uncharted 4: A Thief's End Special Edition, priced at $80. This will include a physical copy of the game on a blu-ray disc, a collectible Steelbook case, a 48-page hardcover art book from Dark Horse and Naughty Dog, stickers, and a pack of in-game currency used for unlocking multiplayer content.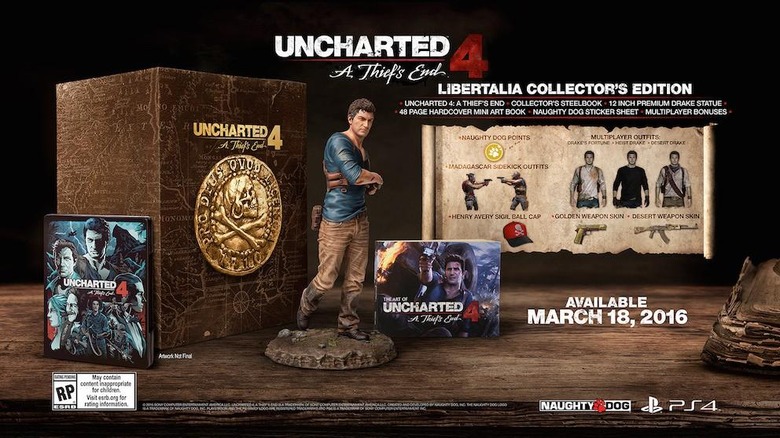 Die-hard Uncharted fans might be more interested in the Libertalia Collector's Edition, which, for $120, gets them everything from the Special Edition plus a 12-inch Nathan Drake statue, multiplayer costumes and weapon skins, and a baseball cap.
Those who prefer to purchase their games digitally from the console's PlayStation Store aren't getting left out either. A Digital Deluxe Edition will be available for pre-order later this week for $80, and comes with a digital copy of the game that can be pre-loaded and ready to play at midnight on the day of release. This edition also includes the Uncharted 4 Triple Pack, which consists of future downloadable content like a single-player story mission and multiplayer packs.
SOURCE PlayStation Blog