Ultra-thin notebook sales languishing?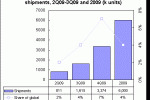 Occasionally arch rumor site Digitimes takes a break from speculation and leaks and does some research into PC hardware sales performance.  Latest niche to come under their microscope is the "ultra-thin" notebook, generally based on Intel's CULV (consumer ultra-low voltage) platform, and offering a middle-point between the battery longevity of netbooks and the performance of full-sized notebooks.  Unfortunately for manufacturers, Digitimes claims the ultra-thins will only account for 4-percent of total global notebook shipments in 2009.
The issue, according to their research, is price, with the ultra-thins simply too expensive for their own good.  Netbooks are offering better battery life at ever-falling prices, while budget notebooks are also falling in cost but offer much higher performance than the ultra-thins.  European and North American demand apparently remains low, and Digitimes predict no significant improvement despite some big names – HP and Dell, among others – entering the segment in Q4 2009.