Ultimate Halloween costume puts father & son inside MechWarrior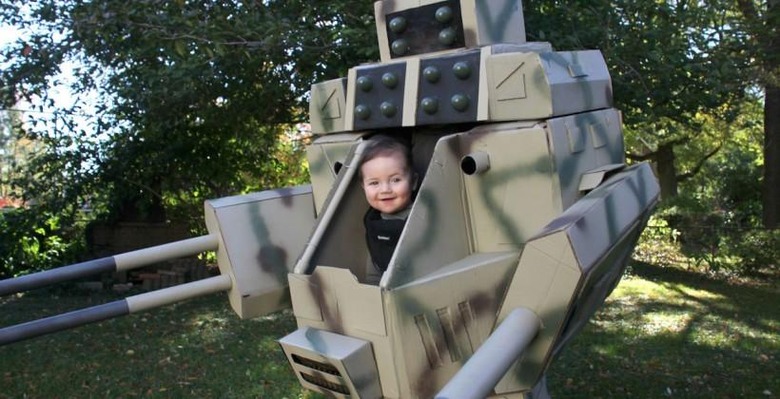 No matter how clever or cool you thought your Halloween costume was this year, odds are it still doesn't stand a chance next to this father and son duo inside a MechWarrior costume. Said to have been planned for several years, Ryan Bowen used simple materials to create the frame of the mech, with himself inside, while at the same time carrying his 6-month old son and making him appear inside the pilot seat.
Bowen's wife shared an album of great photos on Imgur, and offered details on how the whole thing came together. The costume, based on the MechWarrior video game series, is made almost entirely of nothing but cardboard, PVC, and velcro. The PVC was used to make the mech's frame, while cardboard was cut and shaped to make up the shell, with pieces of foam board used for a 3D appearance. Velcro is used as the glue to hold everything together.
"The legs are supported by a belt, which is hidden under the body," Bowen's wife wrote, adding "His arms slip into the gun pods and he has more Velcro straps on the inside in order to hold them. The feet just fit over his shoes by gluing toilet paper tubes on the inside to take up the extra space." Even more impressive is the video that shows the pair walking around the yard, all while baby Geraint is in a harness against hid dad's chest.
Ryan got to work on the costume two months before his son was even born, showcasing not just dedication, but how much of a great father he is. And judging by the big smiles on Geraint's face, it looks like the effort was more than worth it.
VIA CNet
SOURCE Ryan Bowen & family