Ultimate Ears Wonderboom review: A great speaker for its price range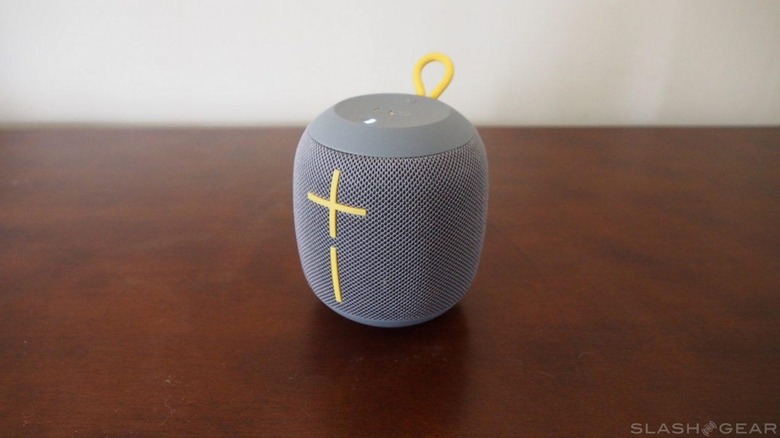 Finding a good Bluetooth speaker at an affordable price is a hassle, and it becomes an even more difficult endeavor when you need that in a portable package. Ultimate Ears thinks it may have a solution to this conundrum with its new Wonderboom speaker, promising good sound, portability, and some degree of durability in a package that costs $99. Is it too good to be true, or does the Wonderboom actually deliver on the claims Ultimate Ears has made?
Generally speaking, small speakers don't really give out big sound. As you can see in the photos, the Wonderboom is definitely small speaker. It isn't much bigger than a softball and fits comfortably in one hand. Despite this, Ultimate Ears promises a solid range when it comes to music playback, claiming that the speaker is capable of producing good highs and "big, beautiful bass."
It's true that we can always expect a bit of PR hyperbole when it comes to any product, but I was surprised by this speaker's ability to output noticeable bass, something that small speakers tend to struggle with. Is it the best I've ever heard? No, but given its price range, we can't expect the best of the best. I will say that it does offer the best sound out of all of the speakers I've experienced priced at $100 and below (and I used to work for wireless carriers, so I've heard a lot of them).
Sound quality is, obviously, the biggest part of the equation here. While the bass it's able to produce isn't overwhelmingly awesome, I think it should be good enough for those who need a speaker but don't want to spend more than $100 on it. Mid-range and high notes are solid, and beyond that, this little thing is capable of getting surprisingly loud without really any distortion. It's certainly capable of filling a room with sound, which you may not initially expect in a package this size. For a better idea of Wonderboom's size, have a look at it next to my JBL Charge 2: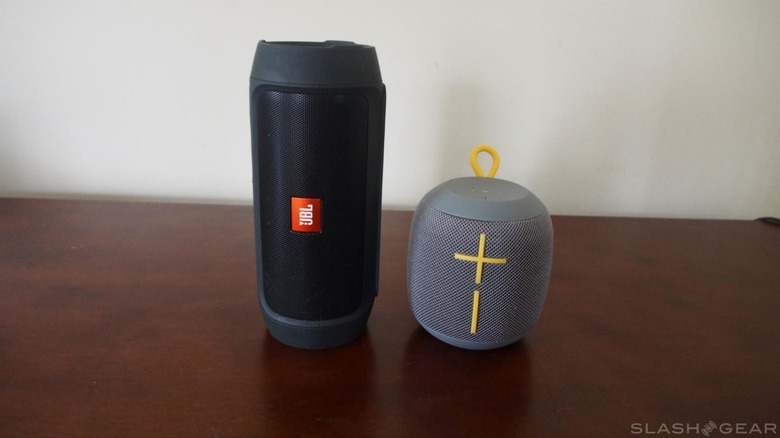 While the Wonderboom offers good sound quality for its price range, I have to say that I'm not a huge fan of the design, at least from an aesthetic standpoint. I prefer my speakers to be on the subtle side, and the Wonderboom definitely isn't that. With two big plus and minus buttons on the face of the speaker that serve as volume controls and a selection of colors that includes pink, red, blue, lilac, black, and gray, the Wonderboom certainly has the potential to stand out.
The aesthetics end up being my biggest complaint about the device, but in Wonderboom's defense, that all comes down to preference. I realize that there are a lot of people out there who are going to like what Ultimate Ears did with the look of the Wonderboom, and I don't doubt that it will be far less of a roadblock for many potential buyers.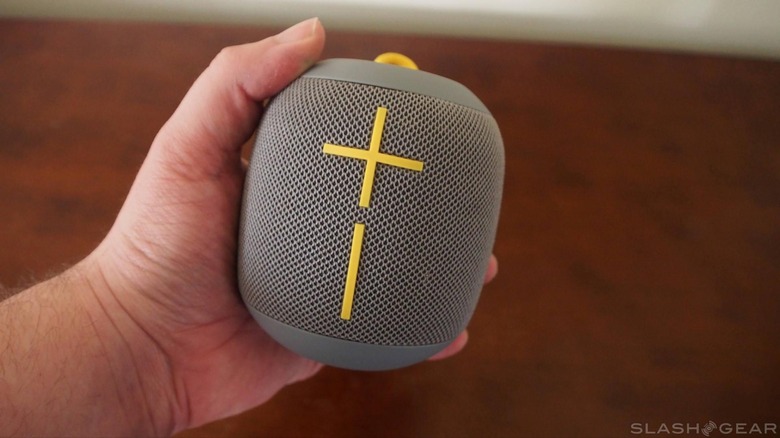 I am, however, a fan of the design from a functionality standpoint. I just looked at the user manual for the first time since I received the speaker in the mail, because just playing around with the speaker for a few minutes is enough to figure out most of its capabilities. Aside from the volume buttons on the front, the UE logo on the top of the speaker will likely see the most action. By pressing this button, you can pause and play the current track, while giving it a quick double press will switch to the next track.
The power button is positioned below the UE logo and resembles a vertical line. The Bluetooth button, on the other hand, is situated above the UE logo and requires a long press before it goes into pairing mode. Wonderboom then plays a little jingle to let you know that it's searching for a device to pair to. Finally, you can check the speaker's remaining battery life by pressing both volume buttons at the same time, which will produce one of three tones. One of these tones lets you know that the battery is full or mostly full, while the second plays when the battery is around half-change, and a third plays when it's running low.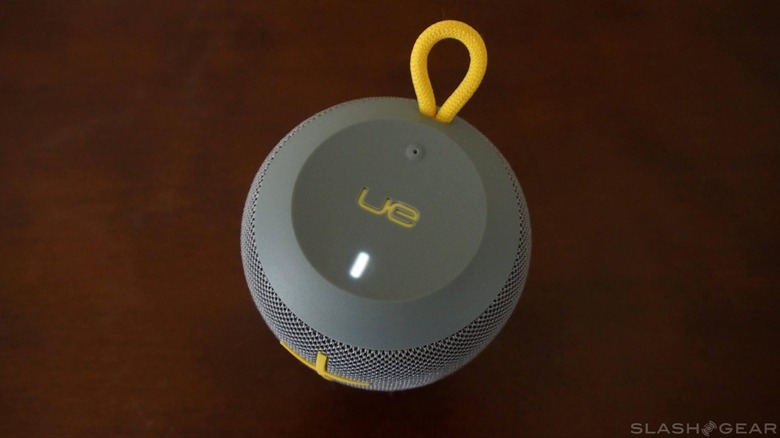 Checking the battery is the only part that seems a little iffy. It would have been nice to have some kind of percentage read out, because as it is, the tones that play only give you a general idea of how much longer you can go without plugging it in. Other than that, though, the process of connecting devices and navigating your playlist is very straightforward, and it's nice to have a no-frills approach to music playback. There's no need to make every single aspect of a speaker feature-rich, and it's nice that Ultimate Ears realizes this.
Let's talk a bit more about the battery. Ultimate Ears says that the battery is good for around 10 hours, and my own tests line up well with that estimate. I was able to go three or four nights in a row before the speaker would need to recharge, and if I didn't pass the 10 hour mark, the Wonderboom certainly came close.
One more feature worth mentioning is that Wonderboom is waterpoof with a rating of IPX7. This means it can survive 30 minutes in water up to one meter deep. Submerging it that deep is going to be tough, though, because the speaker also floats. I filled up my bathtub and dropped it in as it was playing, and sure enough, it survived its swim.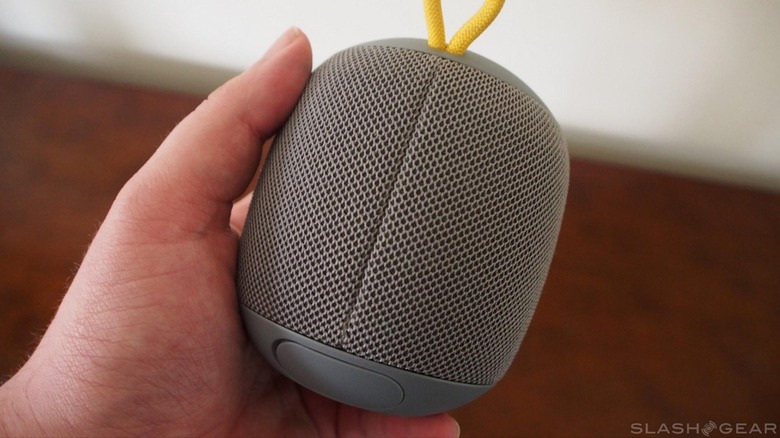 In fact, the Wonderboom feels pretty sturdy in general. I didn't go hurling it against walls or dropping it while standing at the top of a ladder, but it certainly feels like it can take some abuse. I would be hesitant to purposefully subject it to said abuse, but if you make a mistake and it takes a tumble into some water or rough terrain, you'll probably be okay.
Wrap-Up
I have to say that Ultimate Ears has delivered a quality device with the Wonderboom. Though there are some aesthetic choices I find questionable, that doesn't detract from the fact that the Wonderboom is a good choice for its price range.
As with everything, though, you should temper your expectations going in. The Wonderboom is not going to be a replacement for a more expensive Bluetooth speaker, nor will it produce the most incredible sound you've ever heard. That isn't a knock against the Wonderboom, but just the reality of what's possible when you're creating a Bluetooth speaker at a $100 price point.
In setting out to make a speaker that offers good sound for $100, Ultimate Ears has certainly succeeded. If you need a speaker that's portable, easy to use, and capable of producing decent sound, then I have no problem recommending the Wonderboom.
Ultimate Ears will begin shipping its Wonderboom speaker in April 2017.