Ubuntu Orange Box: Cloud Portability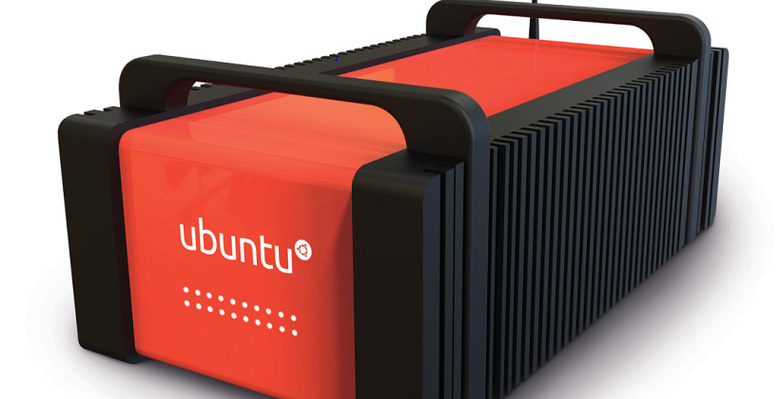 At the OpenStack Summit, Canonical's Mark Shuttleworth took the wraps of the Ubuntu Orange Box, an aptly named orange cloud-in-a-box that is hailed as portable (to a degree). The Orange Box is a full mobile cluster with a couple of convenient handles on top and a weight that lets you check it with your baggage.
The Ubuntu Orange Box features 10 nodes, with an individual node offering an Intel i5-3427U CPU, 16GB of RAM, 120GB of storage, Intel HD4000 graphics, and Intel Gigabit NIC. Furthermore, four of the nodes are said to have additional SSD space, and one of the nodes has Intel WiFi and an accompanying 2TB hard drive.
Not surprisingly, the cloud in a box is loaded with Ubuntu 14.04 LTS 64-bit, as well as MAAS (Metal As A Service) and JuJu, an archive mirror for Ubuntu, and a year of Ubuntu Advantage support. The Orange Box is targeted towards those looking to deploy OpenStack, Hadoop, and more.
The device is shipped with a Flight Case, which allows it to be taken in baggage (total mass with all the accessories and flight case is said to be 32kg/70-ish pounds). It comes with a keyboard, monitor, and mouse, power cables for the US, UK, EU, and IEC, and a detachable wifi antenna.
The box will run you nearly $13k USD.
SOURCE: ZDNet