Ubuntu Edge appears "absolutely anti-ergonomic" in the wild [UPDATE]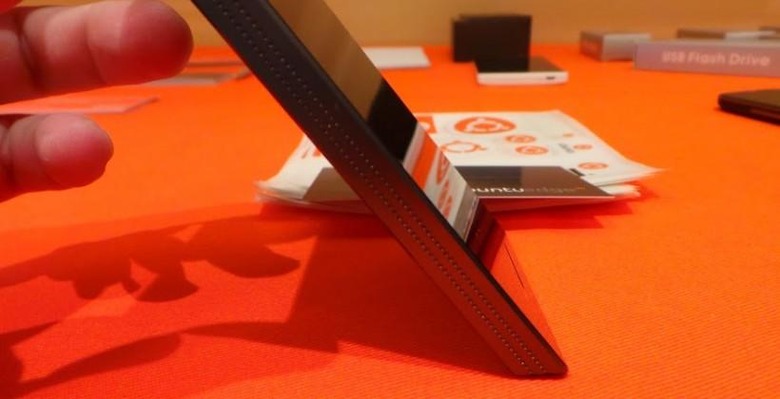 The project known as Ubuntu Edge is a dual-booting Ubuntu/Android smartphone that may or may not make its way to the real world due to its slightly under-funded initiative for action – but that's not stopping early adopters from showing the machine off in a set of up-close photos. What you're seeing here is the Ubuntu Edge looking very much like the device as prototyped in the original campaign. Here we see this "smartphone and desktop PC in one" as what China-based C Tech calls "absolutely anti-ergonomic" – but what original photographer Adam Outler calls "really great and solid in the hand" – which does it look like to you?
Unfortunately it would appear that this model has no software working on it at the moment. This is the same as the very brief turn-over video we saw last month, and it's quite possible that – at the moment – there aren't really any combinations of final hardware and software out there to be seen. What we've got here instead is a machine sitting on a table full of similarly-sized devices ripe for the hands-on action.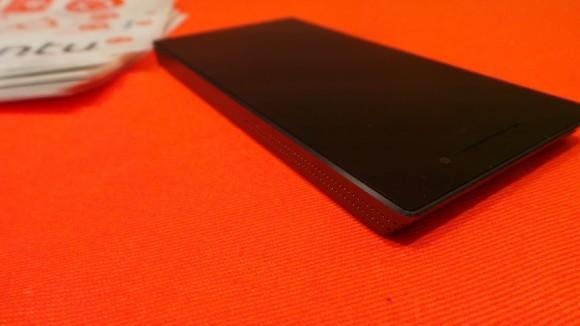 Though the company doesn't look to be aiming to take down titans like the iPhone or the Samsung Galaxy S 4 any time soon, they do make a point to include specifications that (in some cases) far outweigh the market's best.
Inside you've got Android and Ubuntu touch – two separate OS entities. While you can choose to use one or the other in any given situation, Ubuntu Touch is essentially the same as standard Ubuntu, making it ideal for desktop use – while Android is, still, an OS made for on-the-go computing. This device carries 4GB of RAM and 128GB of internal storage behind a Sapphire Glass-covered display.
As you can see, the design of this machine is really meant to be stark. It's flat, it's got a single angle at its base, and it's squared off like no other. With a 4.5-inch display with 1280 x 720 pixel resolution, that ringing in at 300 PPI. Have a peek at Ubuntu Edge and let us know if you're ready to jump in simply based on the shape of the hardware itself.
UPDATE: We'd like to make a special point to note that the original publication of this article did not correctly source the original photographer Adam Outler who we'd like now to point you toward directly: Original Google+ gallery.
Though the "anti-ergonomic" comment stands – one could easily say such a thing about a device even if they've not got it in their hands, after all – we'd like to point out how positive Outler's first experience with the device was:
"At #XDADevcon13, we had a chance to get up-close and personal with the ubuntu edge. The device was a weighted mock-up, but representative of what we should expect if the project gets funded. It has a very high quality feel from its metal chassis and clean cut lines. It felt really great and solid in the hand. The device, overall, is one which I would love to use daily especially with the ability to dual-boot Ubuntu and Android" – Adam Outler
Sound good? Now we've only to see if the device makes it past funding so it can be a real-deal delivery later this year!
VIA: C Tech