Ubuntu BQ Aquaris M10 Review - Part 1: Hardware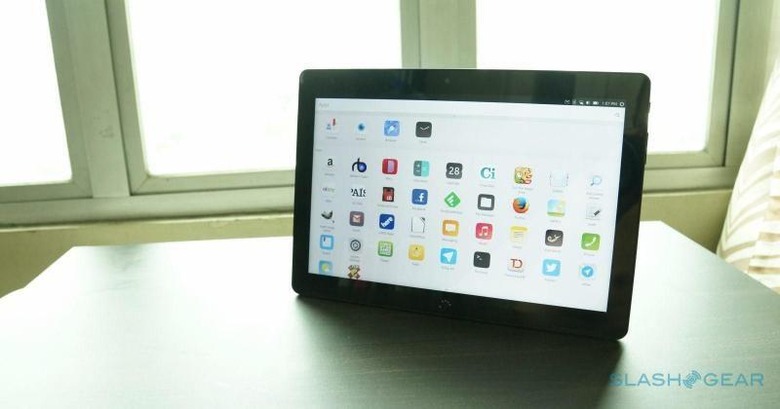 The mobile market today has practically been what former Microsoft-then-Nokia-then-Microsoft-again exec Stephen Elop loved to refer to as a two-horse race. Android and iOS have been butting heads quarter after quarter, year after year. Despite their popularity and ubiquity, neither is truly perfect and neither can really meet everyone's needs and preferences. Which leaves a little wiggle room for other platforms (that includes Windows 10) to try and fill in the gaps. This time around we are going to take a closer look at one the newer challengers, Ubuntu Touch, as it is embodied in the recent bq Aquaris M10 tablet. How does it fare against the bevy of Android, iOS, and even Windows tablets scattered throughout the market? And does it have what it takes to not only stand tall and proud but also to survive? Read on to find our verdict.
A brief overview
We are treating the bq Aquaris M10 special. Whereas most of our device reviews are all crammed in one page, we're splitting this one up. That's because the software running on this tablet, Ubuntu Touch, is so new and so foreign that it deserves a more extensive treatment that would otherwise be allocated for it. As such, the review will come in three parts.
This first part, as you can see from the title, focuses mostly on the hardware, dipping a bit into software features when necessary. Readers will be quite at home here as the Aquaris M10 is practically a very familiar Android tablet. There are very few surprises here, which actually works in its favor.
The second part is going to be the bulk of the review. And it will also be the most unfamiliar and probably most exciting. We dive into the hitherto unexplored Ubuntu Touch territory. More Linux than Android yet less Linux than Linux, Ubuntu Touch is somewhat new territory even for seasoned Linux users. There we will see what will make or break not just the Aquaris M10 but the promise of Ubuntu on mobile as a whole.
Lastly, we will have a part that will more or less summarize our adventure down to a few key points and will hand over our verdict on the bq Aquaris M10 Ubuntu Edition.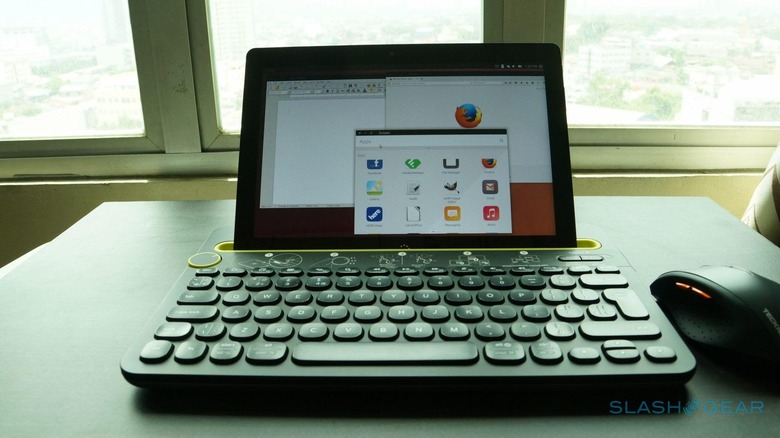 So without further ado, let's warm up our engines.
A brief history
It is impossible to talk about the bq Aquaris M10 Ubuntu Edition without talking about Ubuntu first. After all, strip away the OS and the tablet is pretty much your standard fare mid-range tablet that could, and actually does, very well run Android as well. To all but the most avid of computing and software enthusiasts (or those who zealously digest every dialogue in shows like Veronica Mars and The Big Bang Theory), "Ubuntu" will be an alien name. In a nutshell, it is a Linux-based operating system (a.k.a. "Linux distribution") developed both by a company named Canonical as well as volunteers in the open source community. Since its first major release in 2004, Ubuntu has taken the Linux world by storm, becoming one of the most popular, most adapted, and also the most criticized distribution in the market.
But like most Linux distributions, Ubuntu was designed for desktops and laptops, the traditional "PC" computing. It was also born at a time when pundits were starting to say that the PC is dead and mobile is the future. Unsurprisingly, Canonical would later on announce the start of Ubuntu's adventure into the mobile realm. Called Ubuntu Touch, this specific spin would target smartphones, tablets, and even smart TVs. Initially, Ubuntu Touch would support the developer-friendly Nexus 4 and 5 smartphones, but Canonical would attempt at crowdfunding its own top of the line smartphone, the Ubuntu Edge. That failed miserably and Canonical was left with little choice but to partner with manufacturer's like Meizu in China and bq in Spain to bring Ubuntu Touch to the consumer market.
Since then, there have been four Ubuntu Touch smartphones in the market, the Meizu MX4 and Meizu Pro 5 Ubuntu Editions, and the bq Aquaris E4.5 and E5 Ubuntu Editions. Those, however, are all smartphones obviously. The bq Aquaris M10 thus enjoys the distinction of being the first commercially available Ubuntu Touch device. And this is where we formally start our journey.
Specs at a glance
Let's get right down to the specs. The best way to describe the Aquaris M10 is as a mid-range ARM-powered tablet that can run either Android and Ubuntu Touch. It actually comes in two resolution and CPU configurations, which makes a total of four variants. Here's a quick rundown of those specs.
• Operating System: Android 5.1 Lollipop / Ubuntu Touch• CPU: Quad-core MediaTek MT8163B (1.3 GHz) / MT8163A (1.5 GHz)• RAM: 2 GB• Storage: 16 GB, microSD up to 64 GB only• Display: 10.1-inch 1280x800 (149 ppi) / 1920x1200 (224 ppi)• Main Camera: 5 MP / 8 MP• Secondary Camera: 2 MP / 5 MP• Network: Wi-Fi 802.11a/b/g/n (dual band – 2.4 GHz | 5 GHz)• Connectivity: Bluetooth 4.0, GPS• Battery: 7,280 mAh• Dimensions: 246 mm x 171 mm x 8.2 mm (9.7 in x 6.7 in x 0.3 in)• Weight: 470 g (1 lb)
The review unit we were provided with is on the high end of the scale. That means a Full HD display, a 1.5 GHz MediaTek CPU, 8 megapixel rear camera, and 5 megapixel front camera. We'll get to those details in the next sections, but suffice it to say, the tablet hardware is pretty much your run of mill budget-friendly ARM (MediaTek even) Android slab. Truly, it is the software that makes it unique, for better or for worse.
Design
The Aquaris M10 is rather unassuming in the looks department. That is both a boon and a bane. On the one hand, the design is clean and without obtrusive marks (other than branding) or gimmicky accents. On the other hand, it is also a tad plain and easily mistaken for other, perhaps cheaper, tablets. There are almost no markings, front or back, except for bq's "five fingerprint" icon on the front, where a capacitive home button would have been, and its name on the back along with legally required information. The latter two are stylistically engraved rather than simply painted on, which is admittedly a nice touch that makes the tablet look a bit more impressive.
The material is unabashedly plastic, which is pretty much what you would expect from its price range. To be fair, there are very few metal or glass Android tablets in the market anyway. Instead of the rather shiny but slippery plastic used in some tablets, like those from Samsung, for example, bq went for a more matte texture that adds to the grip of the device. Closest comparison I can make is the finishing used on the Nexus 5. Don't worry, it's not a dirt or fingerprint magnet, which can't be said of the screen.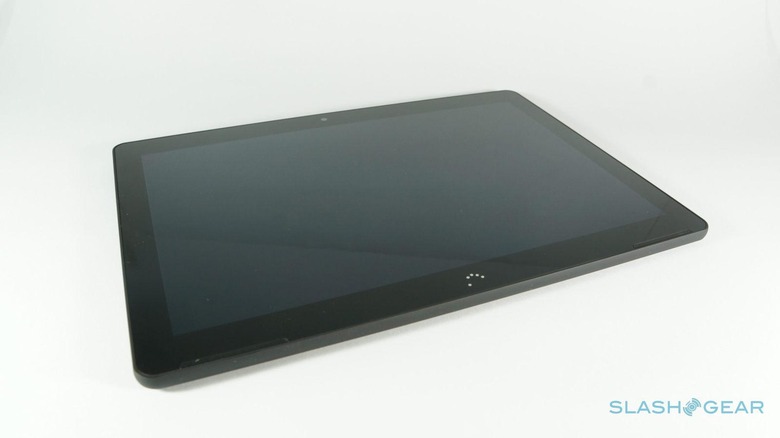 The edges of the tablet are fairly minimal. On the right side are all the buttons, which is practically reduced to a power button and a volume rocker. On the opposite edge on the left you will find all the ports, a 3.5 mm headphone jack, a micro USB port for both charging and data transfer, and a micro HDMI port for video out. At the very top is the slot for the microSD card and the sole microphone.
The face of tablet is somewhat a bit interesting. Aside from the usual front-facing camera and light sensor, you also get an LED indicator, which is not exactly a standard feature in tablets these days. You also get the two 2.0.7 watt speakers. These are front-facing but, curiously, also located at the bottom. It does have the advantage that your hands won't block the speakers no matter which way you hold the tablet. On the Android version of the tablet, the bq icon acs as a capacitive home button. On Ubuntu Touch, the button does nothing.
In terms of design, the bq Aquaris M10 is plain and simple. It doesn't get in your way and lets you focus on getting things done. But it's also not something you might flaunt around like an iPad.
Performance
No matter how classy looking a tablet is, it will fall flat on its face if it ends up being unusable because its hardware could not keep up with the demands of the user's needs. A 4th gen iPad launched in 2012 still looks fine in the design department but might groan a bit under the stress of modern day mobile use. The same is true for the plain but clean bq Aquaris M10. As nice and light as it may be, it needs to be able to measure up to the user's expectations and today's mobile computing habits.
This is usually the part where we turn to benchmarking tools to have a common frame of reference in comparing devices to others in the market. Sadly, that doesn't apply to the Aquaris M10. While the hardware is actually standard as far as Android tablets would go, the operating system running on it isn't and few of the usual benchmarking suites, like AnTuTu, apply in this context. Of course, there are benchmark tools available for Linux, but then we run into a different obstacle. Ubuntu's App Store doesn't have those tools in its selection. And while in theory one can install them via the command line, Ubuntu Touch's implementation makes it less straightforward to do so. Plus, Ubuntu Touch is not Android, nor iOS, nor Windows. Long story short, we're stuck to approximating the evaluation of performance.
From one angle, we can look at the CPU, RAM, and GPU to get an idea of what we're dealing with. The MediaTek MT8163 is by no means a new chip. It was announced back in April last year bearing a quad-core CPU using 64-bit Cortex-A53 cores, ARM's mid-range cores (compared to the higher end Cortex-A72). The only other known commercial device using this chip is the Acer Iconia One 10, an Android tablet launched last December. That, however, has the slower clocked 1.3 GHz variant and only 1 GB of RAM, so comparisons won't exactly be accurate.
More than benchmarks, however, real-world usage is important. Fortunately, the Aquaris M10 does seem capable of performing normal every day tasks, which include browsing the web, checking and sending e-mails, playing music, watching videos, and even editing documents. It is no race car, however. Linux is traditionally a more lightweight and more performant operating system than most, but Ubuntu Touch's heavy use of animations and effects does sometimes bog the system down. And no, there are no obvious ways to tune those down. In most cases, the 2 GB of RAM is enough to load a good number of apps simultaneously, but when you start running heavy hitters like Firefox or LibreOffice, you start to feel the burn. Aside from sluggishness, the effects of that much RAM is felt best, or rather worst, with the built-in Ubuntu Web Browser. Tabs get killed far too soon and too often, worse than what early iPad users experienced with Safari on iOS. It makes professional work using the web browser very inconvenient, if not impractical.
Display
Even more than a smartphone, a tablet's quality hinges on its display. With a larger screen size, defects and imperfections are more likely to be magnified. Like most of its specs, the bq Aquaris M10 does "OK" in this aspect as well, which is to say not so bad, but not excellent either. With a pixel density of 224 ppi (1080p on a 10.1-inch screen), images are clear and crisp. The HD model might have a few problems with that, where pixels are more likely to be visible. Color accuracy is rather good in comparison with the 9.7-inch iPad Pro (True Tone Display turned off, max brightness), which is the king of LCD screens. The Aquaris M10 does lose out on the brightness, but you are unlikely to use the tablet with brightness maxed, unless you are in a very bright area.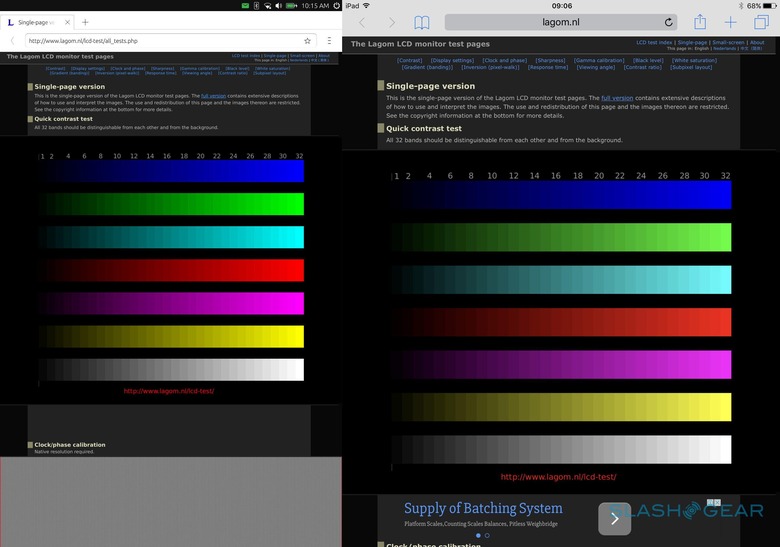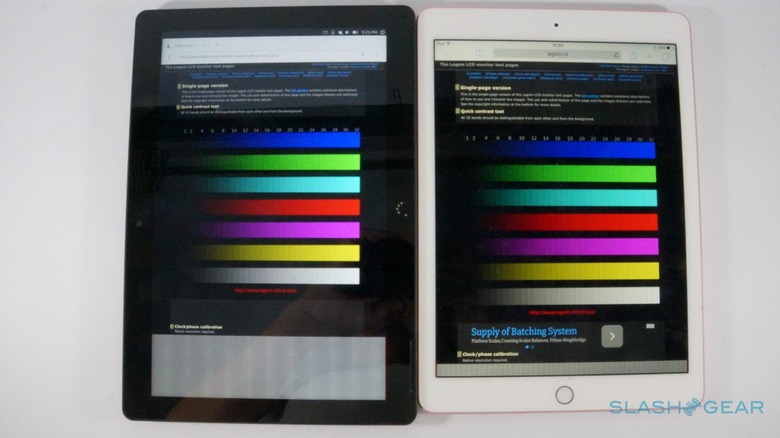 The screen itself is highly reflective, which can become a problem when using it outdoors. Although not the brightest, as seen above, the panel is actually quite bright, sometimes painful to the eyes when indoors. That should more or less address the sunlight problem, though not completely. The auto brightness something, however, doesn't seem too reliable, which we can perhaps attribute to the OS rather than the hardware. Viewing angles are rather narrow as well, exacerbated by the highly reflective glass.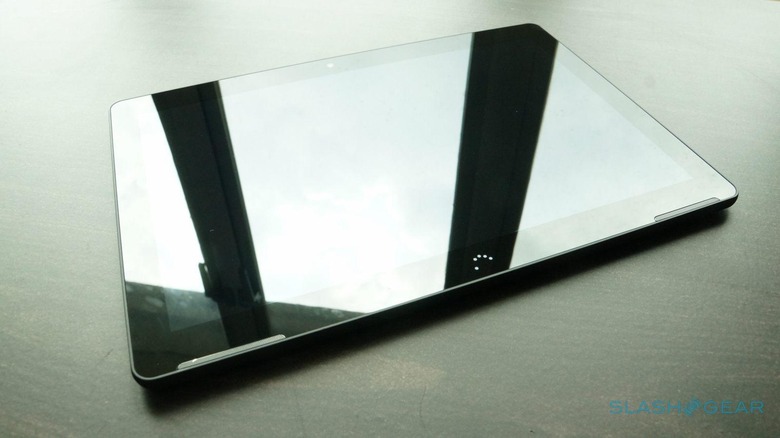 Battery
Battery is, of course, another area of concern for mobile users, though tablets with their hulking packs are usually less worrisome. The 7,280 mAh battery of the Aquaris M10 might look more than enough, but remember that this is Ubuntu Touch we are talking about, not the Android version. Sadly, battery life varies quite heavily not just on what you do with the tablet, but what you have left when you leave it idle.
At the very base level, leaving the Aquaris M10 totally idle and disconnected from the Internet, GPS, and Bluetooth, will last your nearly 48 hours, even with sporadic turning on of the display or launching an app for a few minutes. Of course no one really does that with their tablets (at least not their primary one). "Normal" usage, which involves checking e-mails once in a while, browsing the web, going through Feedly regularly, watching one or two 30-minute anime episodes, and reading a book for an hour, will get you through a whole day without having to reach for the power cable.
That's quite on par with tablets these days, but the real important bit here is the things you let the tablet do while the display is off. Notifications, especially from emails, wake up the screen every time. Depending on the the traffic you get, you can see your battery drop nearly in half in just half a day. And that's only with e-mail being the only thing that gets automatically updated in the background. All other apps only update when you launch them.
But there is one bit of inconsistency that seems to drain your battery even faster. It seems that if you leave an app open, for some reason the tablet loses power a lot faster than when you don't leave windows open. That's true even for apps that don't access the Internet or data storage at all times, like the Settings app or the File Manager. It might be due to the Linux stack not being totally optimized for mobile case and apps that are left open don't get paused after long periods of inactivity. That would almost be akin to a laptop being left idle but doesn't hibernate/suspend and only turns off the display.
Camera
Tablets aren't exactly made for taking pictures or videos. In fact, it's almost considered impolite to do so during an event. Still, from time to time, the tablet might be the only camera you have in your hand, so you'd want to make it count. The bq Aquaris M10's camera will, however, fail to impress, which isn't at all that surprising. The 8 megapixel sensor would could be passable, but the lack of a flash makes it a struggle to deal with poorly lit scenes. No fancy image stabilization or hi-tech auto focus here either. The 5 megapixel front camera isn't going to be great for selfies either, though it can definitely be used for that purpose. It's real value is in video chats, but that value is lost on this Ubuntu tablet as there is no built-in video chat or conferencing app on the tablet. As expected, the Ubuntu App Store's selection in that category is practically non-existent. The unofficial Skype web app doesn't support video or even voice chats either.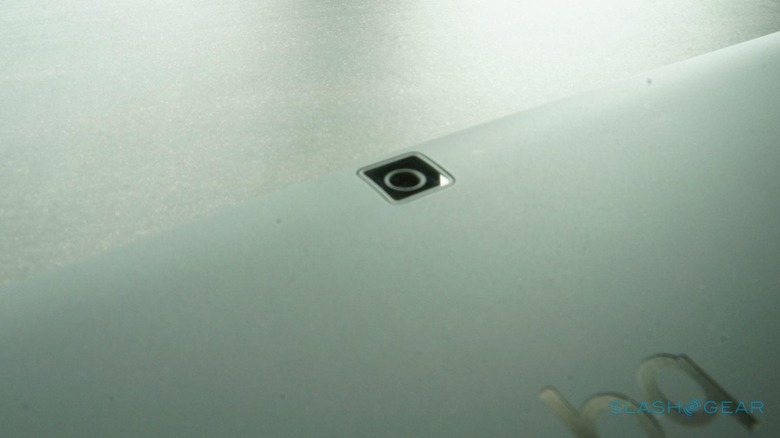 The camera app pretty much reflects the camera's themselves: bare-bones and unimpressive. There are controls for timers, HDR, a 3x3 grid guide, quality selector, location, aspect ratio and save to internal memory or SD card. The app does let you select the focus point by tapping on the screen but that's pretty much all there is to it. Given the hardware, there's really not much to be done.
For the sordid details of the camera's performance, the HDR feature barely makes a difference in most cases, contributing little in making colors stand out more. Auto focus is quite slow, so when coupled with the slow shutter speed, you have a high chance of missing a moving target or getting some ghosting effect. Colors are quite washed out, even in well-lit situations. Low light shots are, as expected, way below acceptable. In summary, the main camera performa best with still photos and still subjects under bright light, and even then the output is below average.
If you need to snap up a quick photo and already have the tablet in your hands anyway, the Aquaris M10's shooter could do the job. In most cases, you will most likely dig for your smartphone for a better shot.
Speakers
The front-facing, bottom-located speakers are surprisingly loud for a tablet in this tier. Not as loud as the iPad Pro, of course, which has become the new standard of audio for tablets. That Apple's latest has four speakers doesn't hurt. Of course, "loud" doesn't alway translate to good. At max levels, the quality audibly degrades. There is also a subtle lack of bass on the lows.
The placement of the speakers is odd but also almost ingenious. They're not placed at the sides so your hands don't cover anything when holding the tablet. They also don't face downwards so sound isn't blocked when you're watching a video with the tablet propped up. And they are also spaced far apart so that your hand also won't cover either of them if you hold the tablet in portrait mode.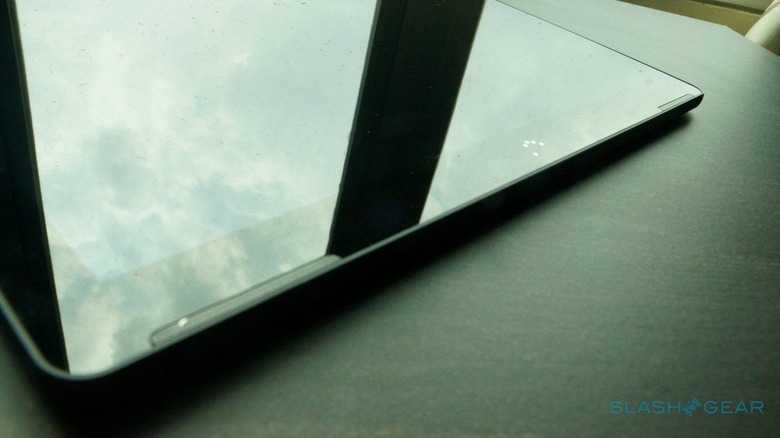 Wrap-up
When it comes to hardware, the bq Aquaris M10 can perhaps be best described as something that "Just Works". That can be taken both ways. On the one hand, it has a no fuss approach to features, with hardware that performs decently for the price you are paying for it. On the other hand, it also means that, as far as hardware and design is concerned, the tablet is unexciting and unassuming. Depending on your particular inclination, that might very well be your cup of tea.
The bq Aquaris M10 Ubuntu Edition's serious looks underlie its rather serious purpose. It is a tablet geared more towards productivity, a tablet that can also be your PC. And that is made possible thanks to Ubuntu Touch, which will be the subject of Round 2 of our very in-depth review.