Ubisoft E3 2018 game trailers round up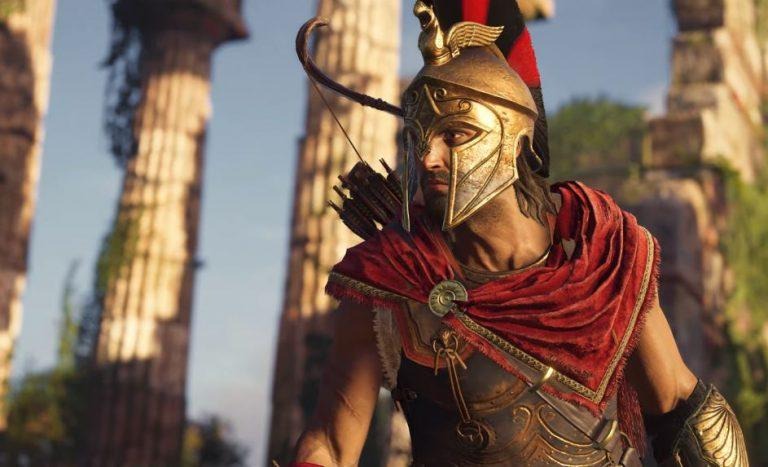 Ubisoft's E3 2018 press conference wrapped up not too long ago, and it was quite the show. Ubisoft had a lot of announcements to make, giving some games we already knew about full reveals while announcing some others we weren't expecting. In all, Ubisoft's energetic press conference lasted right around an hour-and-a-half, and the publisher covered a lot of ground, so let's dive into the trailers from the show.
Just Dance 2019
Ubisoft started its show by announcing Just Dance 2019, and anyone who knows Ubisoft probably expected this particular reveal. The funny thing is that Ubisoft didn't actually show off any gameplay footage, instead announcing the game with a dance routine that spanned the entire theater, featured a person in a panda suit, and even used a marching band. You can watch that in the video above if you fancy doing such a thing, but otherwise just know that Just Dance 2019 will be out in October.
Beyond Good and Evil 2
We covered Beyond Good and Evil 2 separately as Ubisoft debuted its new trailer, but it's pretty enough that it's worth checking out again. Sadly, there's still no release date for Beyond Good and Evil 2, but hey, at least it's in development and presumably moving toward release, right?
Trials Rising
Trials is coming back. It's been four years since the last mainline game in the Trials series, so we're long overdue for a new one. Trials Rising is that game, and to be honest, it looks just as frustrating as ever. We'll see Trials Rising launch in February 2019, but there will be a beta you can participate in before that release.
Tom Clancy's The Division 2
While Ubisoft announced The Division 2 earlier in the year, it got its official reveal during E3 2018. Ubisoft wasn't even the first to unveil The Division 2, but during its press conference today it took a deep dive into it with new gameplay and cinematic trailers. This is another 2019 release for Ubisoft, currently scheduled to launch on March 15.
Mario + Rabbids Kingdom Battle: Donkey Kong Adventure
Donkey Kong is coming to Mario + Rabbids Kingdom Battle, which ended up being one of the most interesting reveals of E3 2017. The DLC arrives on June 26, and today, Ubisoft gave us a look at what Donkey Kong can do in a new trailer. Check it out above.
Skull & Bones
It was just under a month ago that Ubisoft delayed its pirate game, Skull & Bones, into 2019, but the title made an appearance at E3 2018 nonetheless. Like it did with The Division 2, Ubisoft debuted new cinematic and gameplay trailers for Skull & Bones, with the latter taking us through a large scale ship battle on the high seas. Though its too early to make a determination about how good Skull & Bones will be, here's hoping it delivers on the promise of becoming a pirate a little better than Sea of Thieves did.
For Honor
Though For Honor can't be considered a new game by any stretch of the imagination, it is getting new content. A new expansion called Marching Fire will add new warriors and, by extension, new ways to play. Marching Fire will also add a new 4v4 game mode called Breach, which is essentially Ubisoft's take on castle siege. Ubisoft gave us a gameplay breakdown of Breach mode, which you can see below.
The Crew 2
We're just a few weeks away from The Crew 2's launch, so it doesn't come as much of a surprise that Ubisoft didn't spend a ton of time on it today. It did, however, announce that an open beta will launch on June 21, a week before the game goes live. You can pre-load the open beta now over on The Crew 2's official website, so diehard fans will definitely want to check this out.
Assassin's Creed Odyssey
Ubisoft wrapped up its E3 2018 conference by finally revealing Assassin's Creed Odyssey to the world. We looked at the game a little more in depth earlier in the day, but it wouldn't be a proper round up without including Ubisoft's biggest title of the show. We'll see the latest game in the Assassin's Creed series launch on October 5, 2018.
Ubisoft E3 2018 Conference
While this round up covers all of the big announcements from today's conference, we're not going to stop you if you want to watch the whole show in one go. It's a long one, but it's certainly worth it if you're looking forward to some of Ubisoft's upcoming games. You'll find the entire press conference embedded above.
Wrap-Up
Ubisoft had a lot to show off this year, but many of the games it talked about won't be here until we're into 2019. Still, there's a lot to look forward to over the next year. Head down to the comments section and let us know which Ubisoft game you're most excited for, and keep it here at SlashGear for more from E3 2018!