Ubisoft apologizes for broken split-screen promise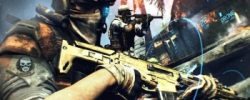 There've been some fans of the Ubisoft franchise Ghost Recon crying foul over confusion on split screen play in the new video game Ghost Recon: Future Soldier. The confusion comes from the fact that some retail sites, including the UbiShop, are listing details that there's a split-screen campaign co-op mode. There is some split screen action, just not what some people expect.
There is no split screen campaign co-op mode in the video game. There is a split screen mode called Guerrilla; it's just not in campaign mode. Ubisoft says that this is an accident resulting from outdated material being used on some retail sites, including its own.
There is no indication at this point if Ubisoft plans to offer refunds to the gamers who picked up the video game specifically thinking it had a split screen campaign mode. Microsoft recently offered refunds to gamers who bought the Xbox 360 versions of Minecraft after a similar split-screen mode fiasco.
"We've been made aware of the presence of outdated information on UbiShop and several retailer sites stating split screen, cooperative play is available in Ghost Recon: Future Soldier's campaign," Ubisoft forum manager EvilPixieGrr said in an update on the publisher's forums. "We have ensured the information has been updated on the sites affected by this."
[via Escapist Magazine]