Ubiquiti Amplifi is a heavy-duty Wi-Fi system for homes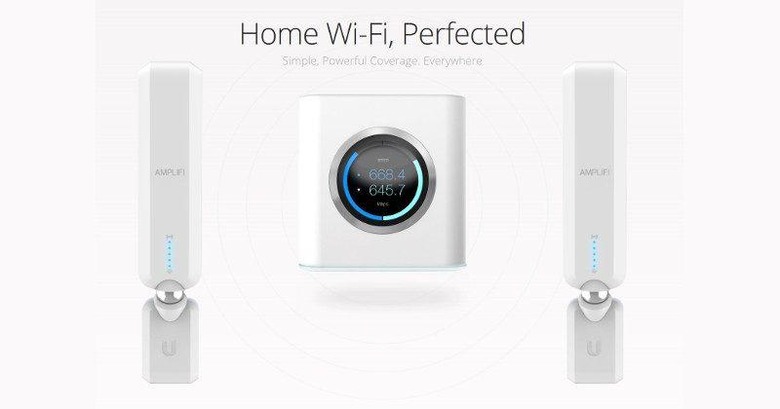 The demands on today's home networks have changed substantially compared to yesteryears. Whereas before each household would have at least one or two computers, today each member of that household would have at least one mobile device, sometimes even more. Regular consumer routers sometimes just aren't enough anymore to handle all those devices, not to mention the bandwidth their activities require. Enter Ubiquiti with its new Amplifi Wi-Fi system which was designed to create an enterprise-grade Wi-Fi network but with the convenience and beauty of a home device.
Amplifi is practically a home edition of Ubiquiti's Unifi Wi-Fi system, the latter designed more for business than homes. While Unifi could potentially address the complex needs of today's home networks, it required a lot more upfront setup as well as maintenance that is just overkill for most home uses cases.
In contrast, Amplifi was designed inside and out to blend in with the house. All you need to do is to introduce the base station to your Internet connection and you're ready to go. Everything works out of the box, including the two pre-paired extenders. Yes, it comes with two Wi-Fi extenders, which is why Ubiquiti is billing Amplifi as a Wi-Fi system and not simply a router.
It does have a router, which is the base station itself. That one has a maximum TX power of 22 dBm at least for the base model. There are two other configurations, the LR (long range) with 24 dBm and HD with 26 dBm. The base and LR models support 2x2 MIMO while the HD class bumps it up to 3x3. All three support dual band Wi-Fi of the 2.4 GHz and 5 GHz bands.
Ubiquity has opened up pre-orders for Amplifi, with shipping expected to start in a few weeks. With enterprise-level features, you can probably guess that it will cost a pretty penny. The base Amplifi set goes for $199, with the LR config priced at $299. At the highest is the HD system for $349. Ubiquiti hasn't revealed prices for separate Wi-Fi Extenders, though those could be offered as addons later on.