Uber integrates Transit app to give users public transportation details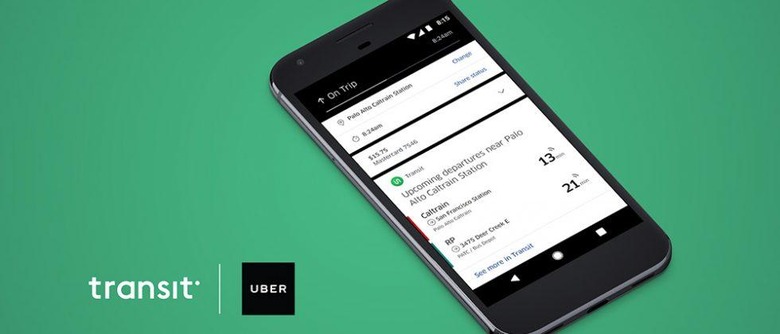 Uber has announced a new app integration with Transit, enabling it to offer transportation options for public transport systems like local trains and buses. The idea here is that if you're in the city and taking an Uber car somewhere, you're probably only going to use it for part of your overall trip, which may include something like using an Uber to get from your home to the train station, then taking the train for the longest portion of the trip.
The new public transportation data integration is available within the Uber app for riders located in about 50 cities throughout the United States. The feature is available as of now, while the data from it is presented in the user's Uber feed.
Uber says that it refreshes the information regularly to ensure it is up-to-date with the most current times — tapping on any of the info will take the user to the Transit app for additional information about things like time disruptions, directions on getting to the public transport, and more.
The feature, unfortunately, is only available on the company's Android app; it appears you'll also have to install the Transit app to fully enjoy the feature. As we'd expect, the public transit data is reserved for the nation's largest cities, ones where public transport is plentiful and commonly used. These include places like New York City, Buffalo, Boston, Atlanta, San Diego, Tampa Bay Area, Houston, Denver, Chicago, Cleveland, Cincinnati, Baltimore, Pittsburgh, Seattle, Washington DC, Dallas, Los Angeles, and more.
Speaking about the new integration, Transit's COO Jake Sion said, "Our integration with Uber is a perfect match, as we both envision a future in which every journey is shared using a combination of transit options."
SOURCE: Uber Blog