Uber has overhauled its app: three key differences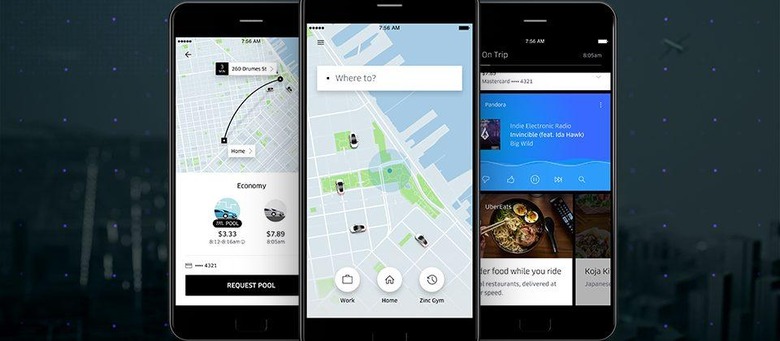 Uber has rebuilt its mobile app, making it cleaner and easier to use in comparison to the previous version. This update was necessary, says Uber, as the app had 'become complicated and harder to navigate' since the last big overhaul in 2012. By remaking it from the ground up, the app is now faster and, says the company, smarter — it can learn your routines if you're a frequent rider, and pretty soon it'll be able to tap your mobile's calendar, too.
Uber is rolling out the new app on Android and iOS around the globe. This rollout will take several weeks, and so it may be a while before you see it yourself. If you used Uber's previous app, you'll notice some changes right away, both visually and in terms of features. There are three key differences with the latest app version, and they're as follows:
It centers around "Where to?"
This is the biggest difference between the old and new Uber app, with the company saying its new offering sets its focus on the most important question: where are you going? Of course, you can directly input your destination addresses, but frequent users may not experience that hassle. The new app can learn your routines and will start to guess where you're heading based on your past trips. You can simply tap one of these suggestions and be on your way.
Uber has even bigger plans for this, and will one day be able to tap your calendar for information about any appointments you have around the time you order a car. If you've got a doctor's appointment, for example, it will be able to offer the doctor's office as a shortcut suggestion, eliminating the need to type in the address. As well, Uber plans to enable trips directly to another person, assuming they send you a message with their location details.
Easy car selection
Uber offers different types of service including uberX, the one most people will be familiar with, and other things like uberPOOL and UberBLACK. Which options are available to you depends on where you're located, but generally you'll have more than one option. Seeing how much each option costs — and choosing the one you want — is now as simple as swiping through the list.
As you see in the GIF above, the app now shows you all the options with arrival time and fare estimates after you choose your destination. The cars are split up into "Economy" and "Premium" categories, and make quick work of choosing your vehicle: if you're crunched for time, choose the one with the nearest arrival time estimate. Need to save money? Tap the one with the lowest cost estimate.
Refining your ride
Finally, the new app presents some simple and welcomed options after your ride is underway. You can, for example, choose to split the fare or share your status with someone who is waiting for you — both features found in the old app. However, the new app will enable people to do more things relevant to their destination.
One example Uber gives is viewing transit details if you're hitching a ride to a bus or train station. Those going to a restaurant, though, may be better served with a series of Yelp reviews. UberEAT will be available in supported areas, as well as things like Foursquare to see what's available at your destination. Uber also indicates that exclusive Snapchat filters are in the pipeline for Uber riders, and it mentions listening to Pandora, though there doesn't seem to be anything especially interesting about that.