Uber acquires JUMP to break into bike sharing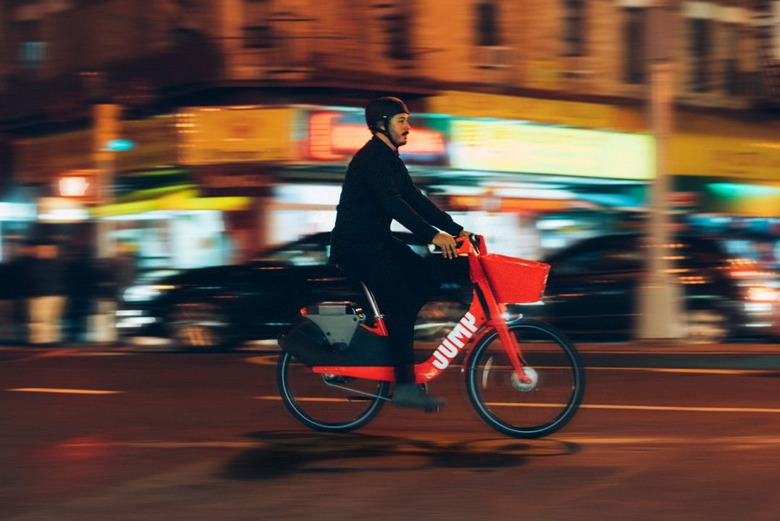 It's a big day for Uber, as a new acquisition will see it branch out from the ride sharing service that made it a popular name. Uber revealed today its plan to purchase JUMP, a bike sharing company that's currently operating in San Francisco and Washington DC. Those who have been following the development of Uber's service for a while now probably won't find this acquisition as much of a shock, as Uber has been working with JUMP for a few months now to integrate a biking option in its app.
JUMP, for those of you who are unfamiliar, is a company that's been making a name for itself by doing bike sharing a little differently. Instead of relying on special bike racks, JUMP bikes – which are bright red and feature an electric motor for pedal assist – can be dropped off and locked up anywhere. Outfitted with a GPS and a u-bar lock that can be unlocked with a smartphone, the dockless design of JUMP bikes can offer a little more flexibility to riders.
Currently, JUMP is the only dockless bike sharing company that's permitted to operate in San Francisco, and for the moment that operation is relatively small in scale. There are only 250 JUMP bikes available in San Francisco, though that number will double by the time September rolls around. JUMP has a presence in other areas of the world as well, with a fleet totaling 12,000 dockless bikes in 40 cities across 6 countries.
With Uber's backing, we can probably expect to see JUMP bikes sprout up in other US cities quickly. Transit sharing is a business that seems to be on the precipice of exploding, and there are a lot of players hoping to pull ahead of the pack when it does. The bike sharing market in particular is seemingly becoming a crowded one, so with the capital of Uber backing it up, JUMP significantly improves its chances of becoming a giant in the space.
Of course, Uber isn't buying JUMP just so it can make some money from bike rentals on the side. Uber eventually wants it app to offer multi-modal transportation options, recognizing that there are times when it's inconvenient or unaffordable to a hail an Uber driver. By sweeping up JUMP, Uber adds a bike sharing company with 10 years of experience to its portfolio and can begin adding bike sharing options to its app alongside its more familiar ride sharing offers.
In a blog post today, JUMP CEO Ryan Rzepecki said that his company will "continue to operate in a way that remains true to our roots and we will remain good partners to cities while deliver excellent service to our riders." In other words, he expects very little deviation from the direction JUMP was already heading in, though with Uber at the helm, we'll probably see Rzepecki's goals realized sooner.
Terms of the acquisition weren't disclosed, and Uber expects the deal to close within the next few weeks. After that, it'll be only a matter of time before we hear of Uber bringing JUMP bikes to new cities around the world, so we'll keep an eye out for those announcements. Stay tuned.