Typo BlackBerry-esque iPhone keyboard draws lawsuit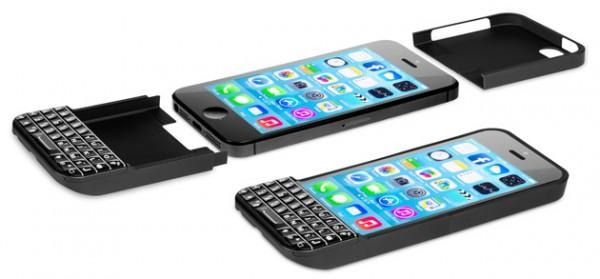 Remember that BlackBerry keyboard-looking case for the iPhone that popped up at the tail end of 2013? Looks like BlackBerry saw it too, and they weren't too happy about how similar it looked to their own handset models. The Typo iPhone keyboard is the subject of a brand new California court case which suggests the accessory is a "blatant" copy of BlackBerry's own designs.
While we'll leave the chatter about BlackBerry's current financial situation and sales to the SlashGear BlackBerry tag portal for your perusal, today's lawsuit isn't really about the cash. Instead it's about BlackBerry's protection of their own patent rights, the likes of which they have plenty of, to be sure.
"This is a blatant infringement against BlackBerry's iconic keyboard, and we will vigorously protect our intellectual property against any company that attempts to copy our unique design. From the beginning, BlackBerry has always focused on offering an exceptional typing experience that combines a great design with ergonomic excellence.

We are flattered by the desire to graft our keyboard onto other smartphones, but we will not tolerate such activity without fair compensation for using our intellectual property and our technological innovations." – Steve Zipperstein, BlackBerry's General Counsel and Chief Legal Officer
How this will affect the appearance of Typo Products at CES 2014, we can't be sure. This is their headline product, after all, using the following introduction for their Digital Experience appearance during the conference:
"Introducing what people all over the world are already calling a total game changer..the first ever physical keyboard for an iPhone..the Typo Keyboard." – Typo Products
Stay tuned and we shall see! This company was founded by founded by entrepreneur Laurence Hallier and TV host and media personality Ryan Seacrest, certainly nothing to scoff at lightly!
VIA: Engadget, BlackBerry