TwoNav Aventura PND with custom mapping provision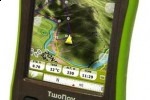 If you've ever looked at your PND and thought "I could draw maps better than these" – usually when you've just driven the wrong way down a one-way street – then TwoNav's Aventura could be for you.  Based around a 3.5-inch touchscreen and SiRFstar III GPS chipset, the Aventura does the usual automotive directions complete with Tele Atlas maps, but what makes it special is its flexibility to use custom or DIY mapping data.
According to TwoNav, the Aventura will "use any kind of map without problem of compatibility."  That means you can load any number of vector maps or raster imagery, such as satellite photos, or digital elevation models, 3D landscapes, pretty much anything that can be scanned in and calibrated.
Those maps will then play nicely with the Aventura's electronic compass and barometric altimeter.  The PND is also "rainproof" (though not IPx7 certified) and has a removable Li-Ion battery good for 10-20 hours of runtime.  Alternatively three AA batteries will do.  The screen can be rotated for portrait or landscape use, and there's an SDHC card slot for up to 32GB of storage.
You pay for all that flexibility, though.  When the TwoNav Aventura hits Europe on June 1st, it'll cost €599 ($837) for the single-country model and €649 ($906) for the Western Europe edition.  That gets you the Tele Atlas mapping and topographical data too.  No word on a US release.
[via GPS Tracklog]