Two Point Hospital is getting a console release later this year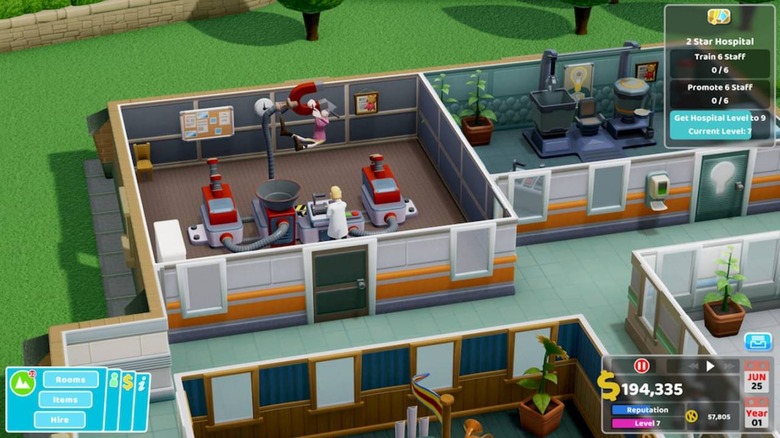 Ever since it released last year, Two Point Hospital has proven to be a very popular game on PC. Perhaps it shouldn't be a surprise, then, that Two Point Studios is looking to bring it to other platforms. Today, the company revealed that Two Point Hospital will be heading to consoles before the year is out, saying that a console release has been the "number one request" since the game launched on PC.
We don't have a specific release date for the console version of Two Point Hospital yet, but Two Point Studios has confirmed that it will be coming to PS4, Xbox One, and Nintendo Switch. We also know that the console version of Two Point Hospital will include Bigfoot and Pebberley Island, the two DLC packs that have been released for the PC version thus far.
On top of that, Two Point Studios will also be rolling a number of free PC updates into the console release, and says that it has created "an intuitive, quick and precise control scheme from the ground up" that will presumably make the game play nice with a gamepad. We don't often see these management sims land on consoles, and controls are often one reason for that, so it's good to see Two Point Studios putting a lot of thought into the console version's control scheme.
Two Point Hospital, for those who aren't familiar, tasks players with building hospitals, hiring staff, and conducting research. Of course, one of the major goals is treating the ill people who come through your doors, and Two Point Hospital is somewhat famous for the quirky diseases that patients contract. In all, the console version will feature 21 different hospitals and – as Two Point Studios so eloquently put it – "A breaktaking 119 diseases!"
You can hear Two Point Studios' pitch for the console version in the trailer embedded above. We'll keep an eye out for more details about Two Point Hospital's console release, but for now, expect to see it sometime this winter.